Once in a while, it is fun to create just for the sake of creating. I was doodling one night, just passing the time, and I produced a fun, meandering line art piece. My first one was really messy and unfinished looking, but I could see that the techniques were something I could use to produce a fun project for a class.
It gave me the chance to experiment with my Inky Business Brush Set, and to have fun with layering and textures. I provide enough of a selection of brushes that you should be able to try everything I suggest in class. If you haven't yet purchased it, see the offer below.
In this class I'll walk you through:
my step-by-step method for creating the line art 
tips for filling in all the areas produced when lines cross 
my workflow for use of layers and other great features like clipping masks for adding color and texture.
adjusting textures and overlays with the use of hue and saturation and blending modes
methods for keeping the art fully editable for later adjustments and recoloring 
If you've got  a good basic knowledge of Procreate, you'll be able to go through all the steps. This class will benefit anyone who wishes to simplify selections and methods to improve efficiency. I also think that a project like this helps to reinforce what you know and to make judgements on what improves composition and unity.
The key concepts I will include:
review of brush making to create simple textures on the spot
combining textures for a unique look
approaches you can take to unify the final piece and then ideas and examples for methods to use your final design
Learning new Procreate workflows always leads to further exploration and ideas. This is a great opportunity to experiment and even think in terms of how you could use the finished pieces. It gets faster to do as you practice, and it might be advantageous for you to create a quick series for use in other areas of your design business, if that is your cup of tea.



Concepts covered:
Concepts covered include but are not limited to Procreate design, Procreate Patterns with brushes, layering, transparency, blend modes,  Procreate brush stamps, Procreate canvas settings, Procreate snapping and guides, the Brush Studio in Procreate, adjusting Procreate brushes, sizing of documents and brushes, compositions with textural brushes, adding texture with brushes, procreate brushes for adding other interesting details, workflow best practices, painting best practice, Procreate composites, techniques with paints and blending, and much more.
You will get the bonus of…
1 hour of direction from an instructor who has been in graphic design business and education for over 40 years
knowledge of multiple ways to solve each design challenge
an outline, color swatches and a brush set with 20 brushes
Project Description
Challenge yourself today and download and install the Procreate brushes provided to get started on your abstract line art project. Work through each of the lessons, applying the concepts as I teach them. Be sure to make the black line thick enough to add a second, inner line. Try it in white or make it into a color at some point. Try to create at least one brush, and experiment with changing settings on the brushes provided. Add an over-all texture at the end as demonstrated. I would suggest you duplicate your finished art and try it in a monochromatic color scheme. Experiment with different colors for the inner line at this time too!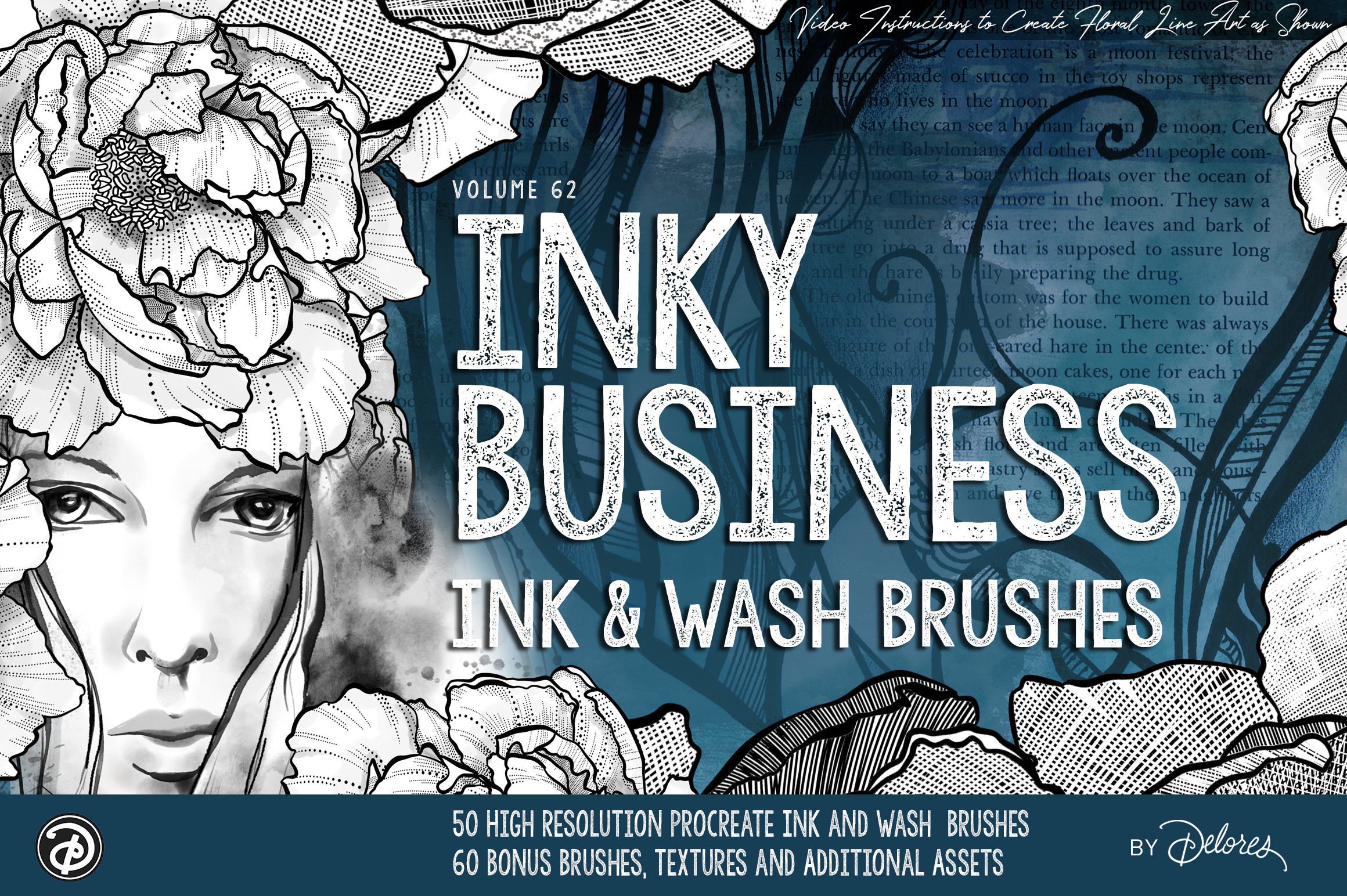 Discount for All Enrolled Students
Pass It On like a Hot otato!


If you don't yet own this set, here is a discount code: INKY-50%-OFF.
I would love it if you could share this image and pass on the code to anyone in your circle. I am all about the sharing!
Check your inbox to confirm your subscription