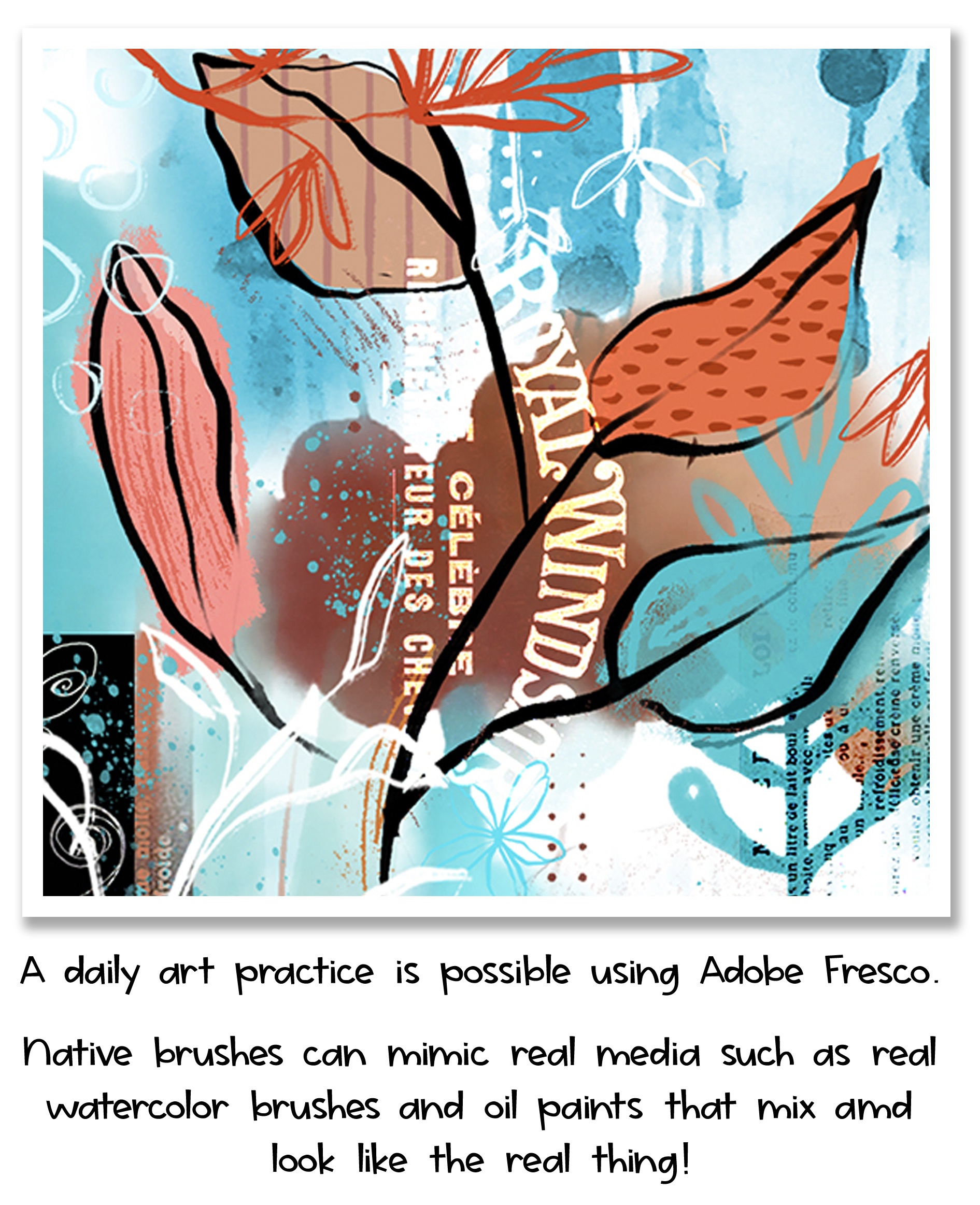 In the last couple of years, I re-introduced a daily art practice into my life as a way to deal with what I call "being a funk". I wanted to explore this personal creativity while learning two iPad apps: Procreate and Adobe Fresco.
I had learned Procreate several years ago, but had stopped using it in favour of a hands-on art journal practice. I used that practice for learning about the power of mistakes and imperfection, intuitive creation, exploring styles and much more. Through this practice of producing art on an [almost] daily basis, I gained the knowledge and confidence to express myself and develop my artistic voice.

As a graphic designer, creating collages and mixed media art became an efficient and satisfying method of making complex visuals to use in my art licensing/graphic design creative process.
I would meticulously scan and composite these images in Photoshop to create large abstract artwork that I have successfully licensed and sold around the world.  But the process could become unwieldy and time consuming [and quite frankly, tedious]. It was time to find a more spontaneous and intuitive way to work!
I am going to share with you my own [new] method of creating collages in Adobe Fresco in this class Digital Mixed Media Collage in Adobe Fresco. In this class, I am going to demonstrate how I now create visually appealing digital collages from sourced online free images, and "natural mixed media", without the entire scanning and compositing stage.
Let's take the time to practice our skills by completing a project together. Each one of my practice-based projects follows a variety of processes from start to finish until we end up with new "natural media" pieces. At the end, I have several captivating designs which can be used in a wide range of projects, from greeting cards, to pillows, to flags and wall art; really just great pieces for my portfolio and art licensing. Through the process I have learned to use these two programs and I have strengthened my creative muscles… bonus!

Check your inbox to confirm your subscription