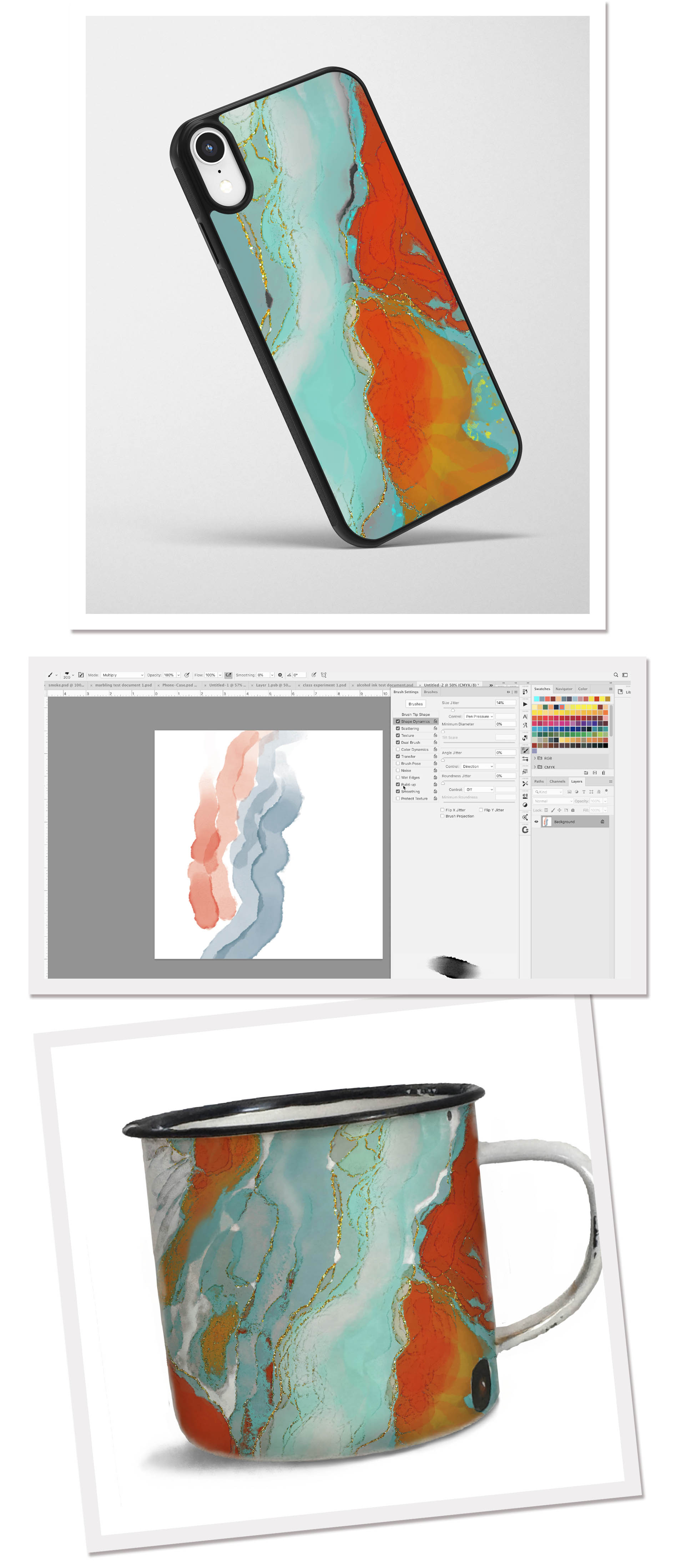 Make surface pattern designs and wall art pieces feel new and luxurious with this easy-to-do digital marbling technique! Marbleizing, or faux marbling, is the preparation and finishing of a surface to imitate the appearance of polished marble, alcohol ink, Ebru, Suminagshi, or the new acrylic pouring you see everywhere. In this class, Luscious Digital Marble with Metallics in Photoshop- Faux Marbling with Liquify, we will explore digital marbling and how to create luscious abstract pieces of art that can imitate many design and paint techniques that are beginning to emerge in current art trends. That's the crazy thing about these techniques: you can create this look so quickly and easily that it is sure to become a style all its own!
The class covers the delicious liquify tool and multiple techniques using brushes, and I show you my entire process. You will learn the basics and we'll journey together to a finished piece which has tons of potential for surface pattern design as well as for large wall art pieces! And, naturally, I cover many Photoshop tips and tricks along the way.
The plus side of these extraordinary and original concoctions is that you can create them anywhere with no paint, supplies or clean-up required. And you honestly don't even need to know Photoshop at all. If your software has the liquify function, you can use it! Or make this your first ever Photoshop project! You will get ooooohs and ahhs from anyone who sees your finished art pieces!
If you're looking to create in an enjoyable new way, or do something purely peaceful and soothing, sign up now! I've kept the class as brief as possible and you can pick and choose which lessons you need. It's playful, and it's terrific for anyone, artist or not. You will not believe your eyes! You will stay up late playing and applying these to mockups. Think of all the products you can upload to your online stores or POD offerings, and everything you can do with your new-found skill. I was dazzled and fascinated when I first started to experiment, and you will be too. I promise!
Concepts covered:
Concepts covered include but are not limited to the liquify filter, the fibers filter, the photocopy filter, the threshold effect, Photoshop masking techniques, layer effects, adjustment layers, brush adjustments, choosing brushes, Kyle's brushes, watercolour brush techniques, adding foil details, alcohol ink simulation, Gaussian Blur, layer groups, invert, spatter brushes
You will get the bonus of…
Around an hour of direction from an instructor who has been in the graphic design business and education for over 40 years

knowledge of multiple ways to solve each design challenge

handouts explaining key concepts

a list of helpful online sites to further your education into surface pattern design.
Project Description
For your class project, I suggest you follow along to create your initial marbling and alcohol ink artworks, pausing whenever necessary. If you prefer to use written instructions, print the attached files. Once your art is complete, watch the other lessons to get ideas on what you want your gold foil to look like. Apply the photocopy filter or use the threshold adjustment and use it to create your mask. Use brushes whenever possible to add details and extra grunge. Remember to try layering and play with all your blending modes, both for layers and for brush strokes. And don't feel you need to my colors! Choose any colors you want. Post your projects here. I'd love to see them
Check your inbox to confirm your subscription