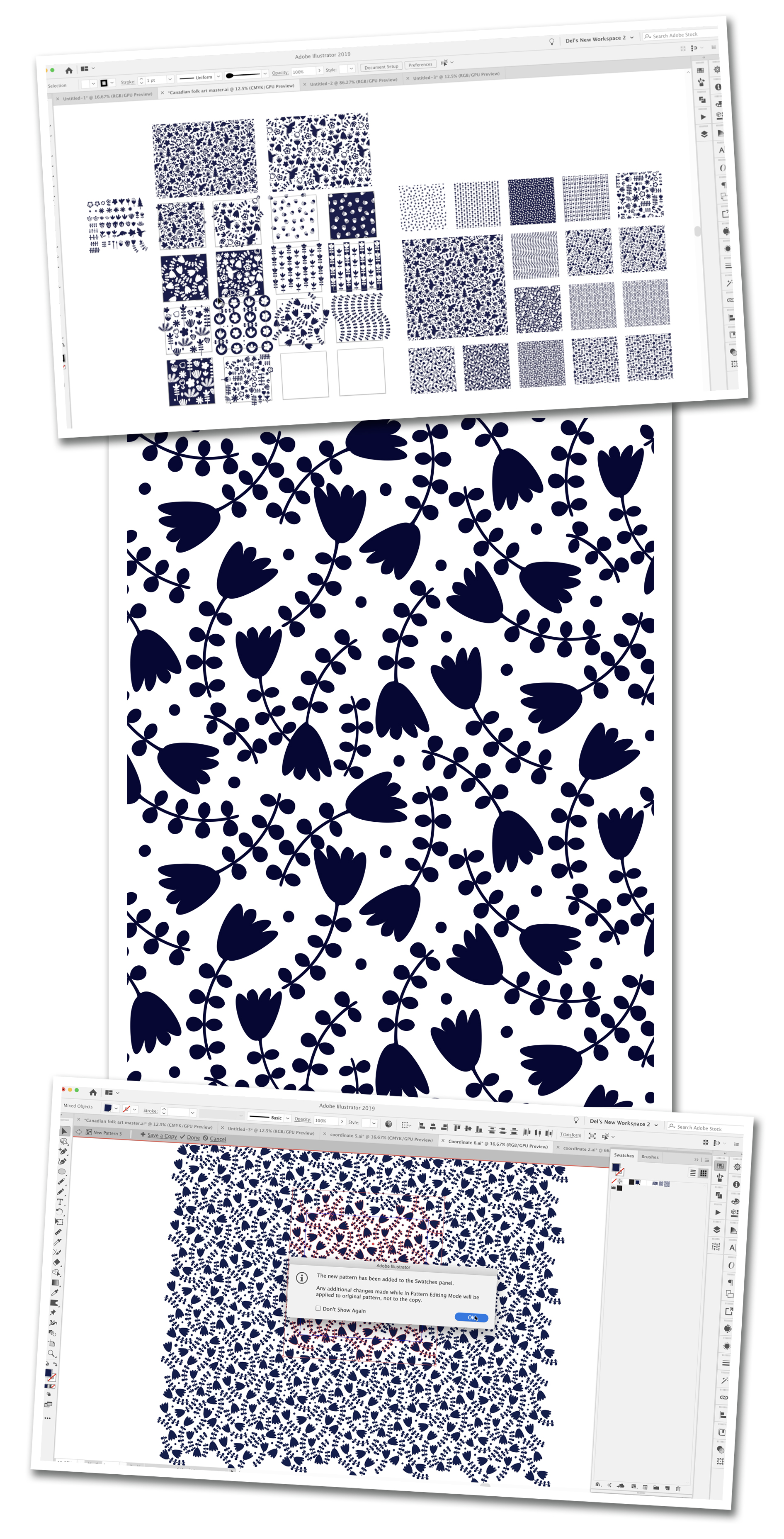 About this Class:
In this course, The Power of the Pattern Tool for Polishing, I'm sharing everything I've learned for checking and fixing design errors with my pattern design. The goal is to make our patterns as polished as humanly possible! This course follows up the Folk Art Inspired Half Drop Toss Pattern Course, and the Pattern Design Optimized Workflow, where we worked with templates, transformation, and many other Illustrator functions to create the patterns and optimize our workflow. I will be using all the assets developed during that course, so it is perfect as part of the continuum. At this point, I review 6 different patterns to show you what to look for to present the most professional finished patterns.
I'll show you my step-by-step process, from my tricks to recognizing errors and design flaws in the first place to specific methods for correcting these. We will work with the assets created in the previous classes so I can explain every step I take, and I will share the rationale of everything I do. We will be using the Pattern Editor for almost everything! Simply double-click the pattern swatch and you are in! All the concepts can be used in any patterns you make down the line, and the skills are transferable to any software that has similar functionality. The value of a course like this, especially when you are first starting out, cannot be underestimated! I wish I had been given this info when I first started designing patterns!

As far as prerequisite skills, I would recommend some knowledge of pattern-making with the goal of wanting to learn additional techniques. In class, we'll talk about both design and technical aspects of pattern repeats. We'll discuss all the foundational approaches which enhance and reinforce  "training your eye". I will be demonstrating using Illustrator, but it's the concepts that are important, and these could easily be applied to similar software as well. Although some of the steps may seem confusing, I will demonstrate them at a reasonable pace so that it will be easy to follow along. This course is for all levels; I recommend being acquainted with Illustrator somewhat, and, also knowing the basic principles of creating pattern repeats, but most steps are explained very thoroughly. If you took the other two courses in this continuum, you are all set. I suggest pausing and repeating sections and possibly even slowing the speed in your browser when trying to work through any difficult parts. Adobe Illustrator is recommended for this class, as that is what is being featured here, but it's the methods you are learning, so those will apply to whatever software you currently use.
The key concepts I will include:
review of my techniques in viewing and critiquing your own work
methods to edit and deal with specific issues like striping, banding, imbalances, etc
organizational considerations replacing original patterns with the new, edited versions
good examples, reference and inspiration for reinforcing the goal
other approaches you can take in your creative surface pattern design work
This course is packed with ample amounts of information for you no matter what stage you are at in your career. Embark on your learning journey to creating beautiful patterns with this series of classes, so you can be benefitting from this practical knowledge in your design practice! Being efficient and working faster and more effectively is absolutely obtainable with this small investment of time. Let's dig in!
Check your inbox to confirm your subscription