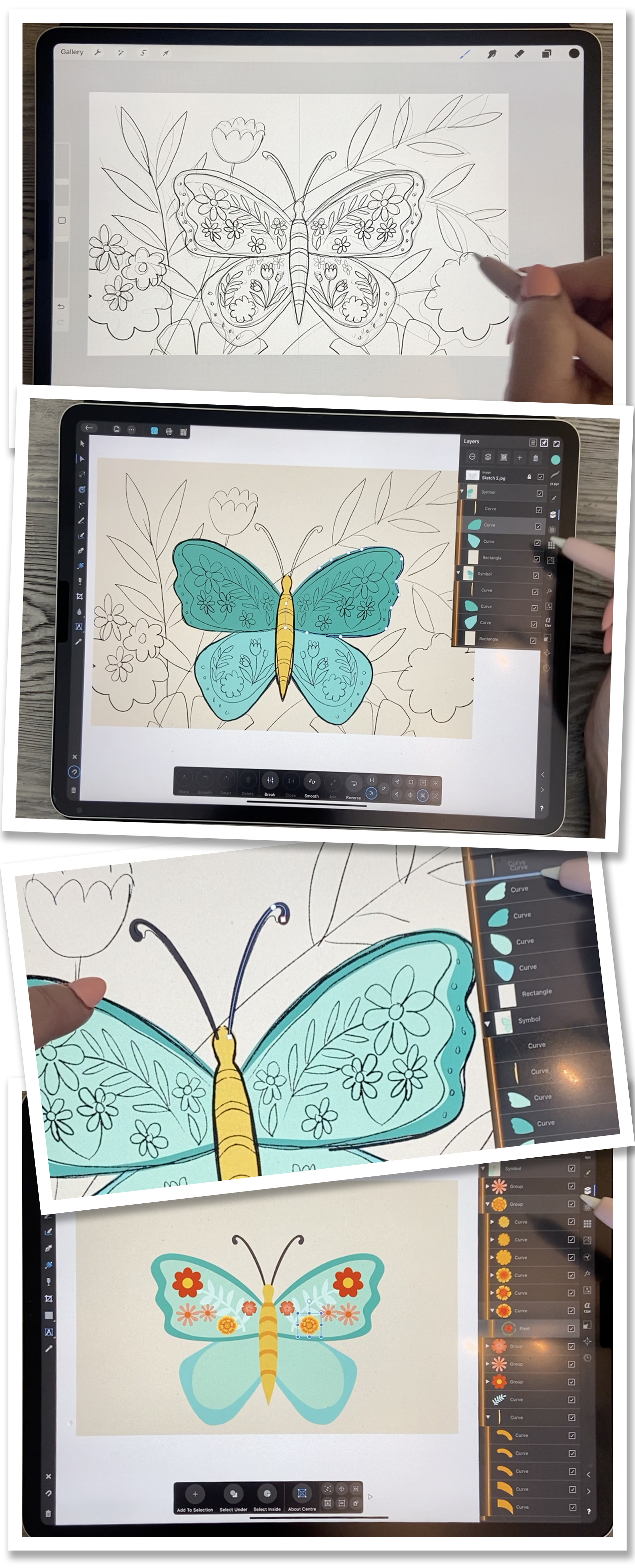 What you will learn:

This class, Affinity Designer 5 – Plan and Set Up a Reflected Butterfly, is the 2nd in a 3-part series to show you how to create symmetrical reflections (5th in sequential order of all DeloresArt AD classes).
We will create the reflection as a symbol and will adorn it with assets we have created and saved into our Asset Studio. As always, I will tie in a lot of tips and tricks to help you in your quest to learn all things Affinity Designer. The bonus is, by the end of the class, you will have a template to use for all future vertical symmetry illustrations. By the end of this class, you will have all the knowledge you need to fill out your design with your very own assets, readying them for the last class in the series. In that last class, we will add a ton of texture and anything else necessary to enhance the illustration.
I take you step-by-step through the whole process from sketch to finished reflection. There is a lot to be learned about creating a complex illustration such as this, but you are ready for it!
In this class I'll walk you through:
the planning stage – creating the sketch and importing it
my step-by-step method for setting up the

symmetrical reflection

tips for arranging the flowers attractively

how to use clipping masks and groups

color and design considerations

As we progress through this series of classes, you will learn more and more about this powerful software. This class will benefit anyone looking to add a vector program to their list of credentials.
The key concepts I will include:
methods to use symbols to create reflections

design efficiencies to help you create in bulk

steps necessary to complete a professional illustration
Affinity Designer is an excellent program for doing so many things, and this is just another examples of things you can do with it! Learning vector software workflows will increase your self-confidence in being able to work as a professional artist. You will learn everything necessary, incrementally.
Concepts covered include but are not limited to the Affinity Designer Asset Studio, Affinity Designer Vector Persona, Affinity Designer Raster Persona, layering, Affinity Designer Symbol Studio, Affinity Designer Transform Studio, Affinity geometry and Boolean operations, Affinity Designer canvas settings, importing and applying textures, Affinity Designer composites, Affinity Designer Color Studio, Affinity Designer Transform Studio, shapes, color swatches and importing colors, texture fills, and much more.
You will get the bonus of…
94 minutes of direction from an instructor who has been in graphic design business and education for over 40 years

knowledge of multiple ways to solve each design challenge

a set of textures you can import into your asset studio
Project Description
Think about what sort of reflection you want to create. This works best with symmetrical object, which is why the butterfly is perfect. If you want to change it up, try a cartoony animal face, a bug, a dragonfly, or whatever suits your fancy. Use the assets you created in the last class and make any new ones you might need. Follow all the instructions in the video to create your template. Duplicate this template before you start arranging elements so you have it for future reflections. 

Check your inbox to confirm your subscription