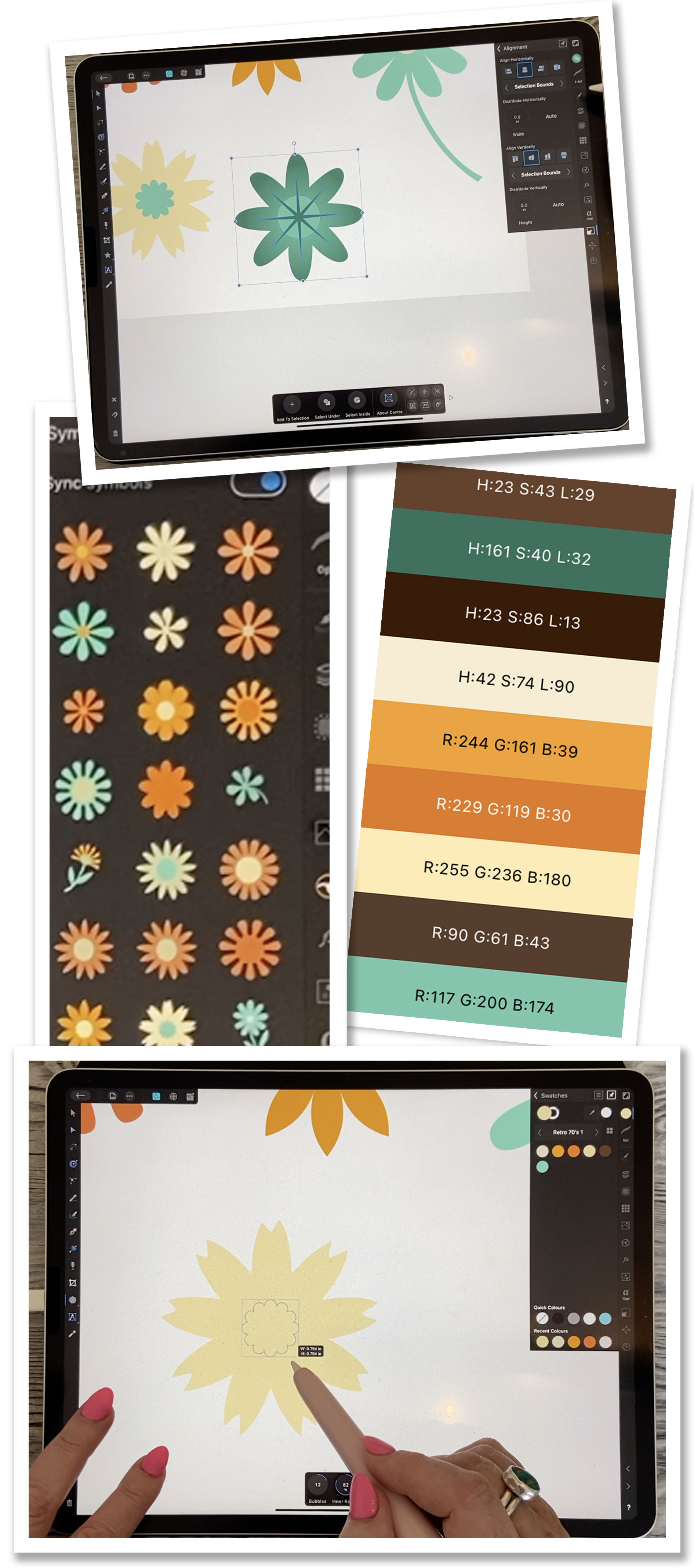 What you will learn:

This Affinity Designer Easy Retro Flowers for Beginners class is the first in a 3 part series to introduce you to the Affinity Designer software. I believe learning new software should be fun, and what better a way to have fun than producing an eye-catching and versatile art layout? Who wants to go through and learn every tool before taking the baby steps? We have all been in beginner classes that take hours to explain all tools and every little nuance of how to use it. I know I look like a deer in the headlights when I take a class like that. This new class, Affinity Designer Easy Retro Flowers for Beginners, will show you some of my illustration methodology specific to Affinity Designer, and a quick and easy method to make flowers from built in Affinity Designer Shapes. That makes it so much more fun to learn! 
In the class, I take you from start to finish in creating a fun and funky 70's inspired layout in retro colors. To create a relevant color palette, I show you how to create your swatches from an imported image, so we are true to the era. The cool thing is that we create a symbols library that we will utilize for the following 2 classes in the series. One of my goals is to show you how cool the symbols library is when it comes to recoloring or changing our symbols. This is one of the most powerful features of Affinity Designer, so I wanted to show that to you right off the hop.
In this class I'll walk you through:
my step-by-step method for easy flower creations from 8 key shapes
tips for creating compositions for impact and interest
my workflow for use of layers and other great features like the Symbol Studio
adjusting symbols and adding stems and such with the pen tool
moving points and using the handles to re-shape the flowers 

If you've been wanting to learn vector software and gain a good basic knowledge, you'll be wanting to start out in as painless a way as possible. This class will benefit anyone who wishes to create interesting vector art and learn methods to improve efficiency while using it.
The key concepts I will include:
review of basic tools in the Affinity Designer Program

a look strokes and paths and how they are adjusted

approaches you can take in learning this deeply powerful program

This is an fun and simplified class for you, even if you are not sure what you will use the vector art for, whether it be for surface pattern design, typography or whatever! Learning vector software workflows is always desirable. I think you will soon see why vector programs are important for you to learn.



Check your inbox to confirm your subscription