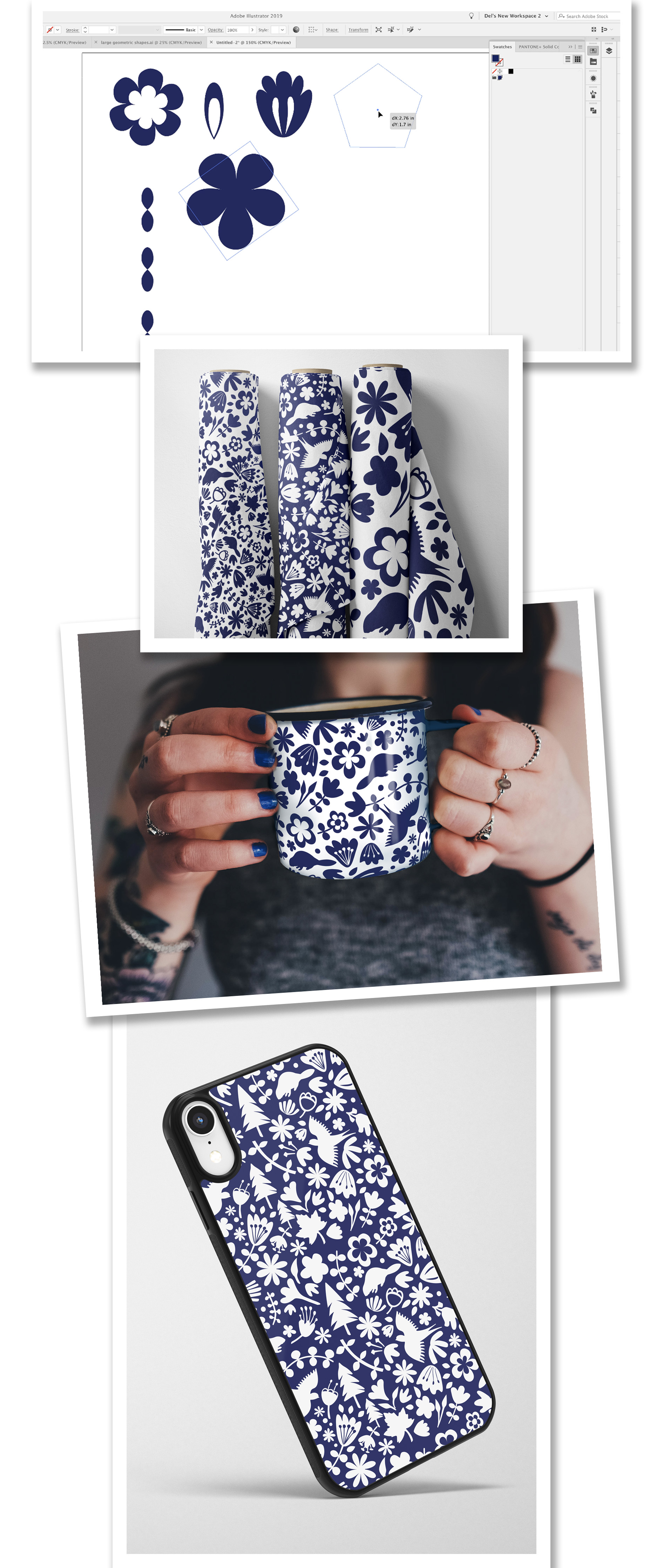 About this Class:
Have you ever just wanted an art project that is pure fun? This pattern is one of those! I am sure you have seen similar patterns that toss all kinds of motifs and elements together to create a fanciful and whimsical design. I'm sharing everything I've learned about making this toss pattern which I have learned from hours of creating and perfecting. You will see my personal technique for creating fun and super easy flower and leaf motifs using Illustrator filters. You can literally create multiple flowers in minutes! You will not believe it! Even if you aren't into pattern design, this is an asset for you. This course, Folk Art Inspired Half Drop Toss Pattern, is specific to the toss pattern with a half-drop repeat with the added bonus of creating a template you can use for hundreds of future repeating pattern designs.
I'll show you my step by step process, from creating the easy-peasy motifs to creating the final repeat in Illustrator. We take the time to critique, all the while referring to our reference and inspiration pieces. This helps us to perfect the positive and negative space considerations that really make this kind of pattern work. Finally, we will be creating the template with transformations, and applying the pattern created onto mockups. All the concepts can be used in any patterns you make down the line, and skills are transferable to any software that has similar functionality.
Lesson 7, which is optional, will explain using transformation to help visualize the repeat layout. What I mean by that is you can see the repeat of the pattern as you are arranging elements, and Illustrator will show the repeat work in a LIVE way. You will see what is happening with your motifs everywhere in the repeat as you work on the original tile. This makes it even easier than having to use the pattern-maker tool, and much more intuitive. I would recommend some knowledge of pattern-making with the goal of wanting to learn additional techniques. In class, we'll talk about both design and technical aspects of repeats. We'll discuss design theory which enhances and reinforces the toss. I will demonstrate the Illustrator software engines which include transformation and live transformation. I will be demonstrating using Illustrator, but it's the concepts that are important, and these could easily be applied in similar software as well.
Although some of the steps seem quite advanced, I will demonstrate them at a reasonable pace so that it will be easy to follow along. This course is for all levels; I recommend being acquainted with Illustrator somewhat, and, also knowing the basic principles of creating pattern repeats, but most steps are explained very thoroughly. I suggest pausing and repeating sections and possibly even slowing the speed if you are in your browser. Adobe Illustrator is recommended for this class, as that is what is being featured here, and it makes use of the Transformation Effects and the Appearance Panel. 
The key concepts I will include:
review of my techniques in creating the initial toss pattern motifs

design considerations for a successful toss pattern 

good examples, reference and inspiration pieces reinforcing the goal

methods to automate with Actions and Transformations

approaches you can take in your creative work
This course is packed with an abundant amount of information for you no matter what your purpose for the pattern you create. Begin today, so you can be benefitting from this effective knowledge immediately in your art practice! 
Are you primed to create fun toss patterns and a re-usable template? That's absolutely obtainable with this small investment of time! Let's get right to it!
Check your inbox to confirm your subscription