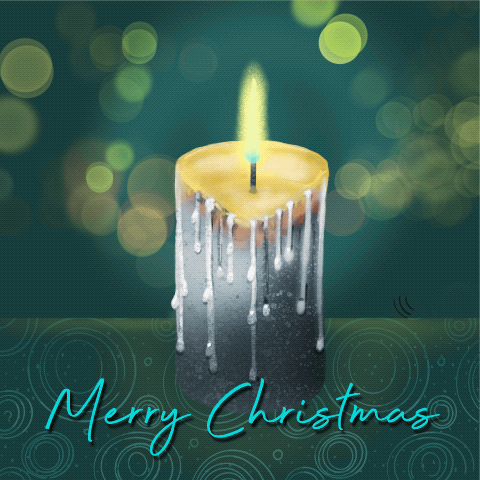 About this Class:
Have you thought animation was a skillset that just seemed unattainable? Have you looked at animation programs and just thought to yourself there was no way you could wrap your head around it? Have you wanted to use an iPad for hand drawn animation? Well, Procreate has the Animation Assistant as a feature, which lets you animate with traditional 2D art in a super quick and easy way!
Anyone can learn to create an animation with Procreate. The features are really intuitive and simple to use, and in just a few easy steps, you can add motion and bring illustrations to life as exportable animated GIFs. This new class, Intro Animated Christmas Candle in Procreate, will show you some of my animation methodology, and ways to use brushes to create the animation.
Procreate animation uses the techniques of frame-by-frame animation. In other words, you will use several frames of the same illustration, making slight changes to each one. Then, Procreate will play those frames in a loop, creating the illusion of motion.
In the class, I take you from start to finish in creating an animated candle. And, I have techniques to make the flame flicker and the lighting look realistic. We make use of layers and layer groups in this simple method to be sure the animation that we'll be creating is completely editable. One of my goals is to show you how to easy the process is, so I don't even use onion skinning. We will save that for a follow-up class! Watch for that in the upcoming months.
In this class I'll walk you through:
·      my step-by-step method for making the original candle illustration Procreate
·      tips for creating realistic highlights and shadows
·      my workflow for use of layers, layer groups and other great features like snapping
·      adjusting to perfect the animation and adding lighting elements in the second iteration of the animation
·      methods for setting the speed and timing using the framerate
·      a discussion over the different output methods and a final output of an animated gif
If you have a basic knowledge of Procreate, you'll be able to go through all the steps. You learn as much about illustration as you do animation in this class. This class will benefit anyone who wishes to expand their illustration skillset and I always pepper the class with tidbits to help improve efficiency.
The key concepts I will include:
review of my brush alterations and adjustments

a look at Procreate animation and how to use all the different settings

approaches you can take plamning your animation
This is an ideal class for you, even if you are not sure what you will use the animation for, whether it be social media or to send to family and friends over the holiday season! Learning new Procreate workflows is always desirable. I guarantee you will create something really appealing, and the result is so rewarding to see!
Example Featured Products
Showcase other available courses, bundles, and coaching products you're selling with the Featured Products block to provide alternatives to visitors who may not be interested in this specific product.
Check your inbox to confirm your subscription