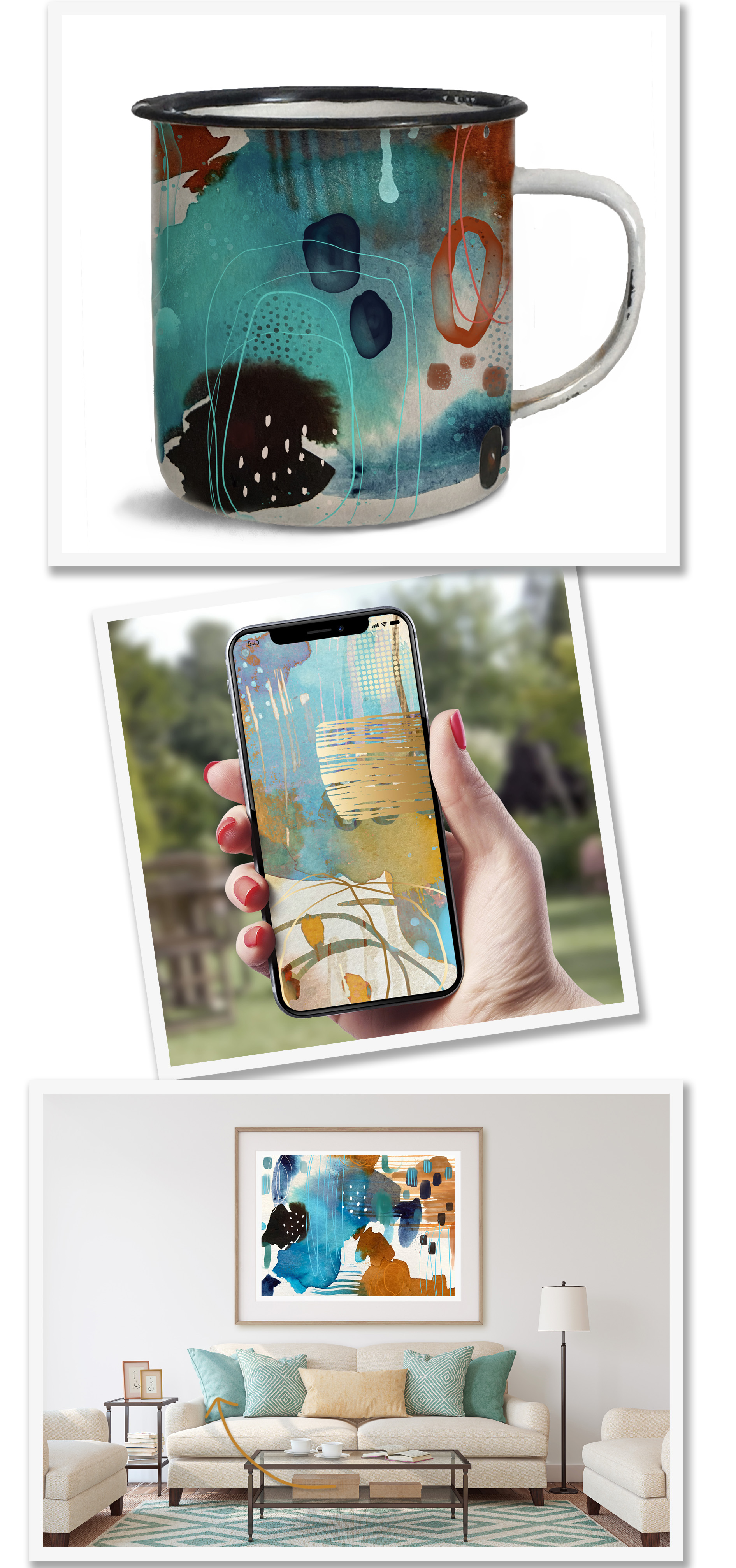 In my last few classes, I explained how I re-introduced a daily art practice into my life as a way to bring back the joy of art-making to my life. With this class, I wanted to continue to explore watercolour, but this time it will be with natural media and a new product that I have been trying out, watercolour sheets and their super intense and saturated pigments. As a licensing artist, I am constantly looking for ideas for my next collection of artwork. I decided that this time, I would concentrate on a watercolour abstract, and I have used the paints to develop a new look for the next set of pieces I create for large abstract art pieces. The great thing is, you don't need to have any experience with watercolour to end up with very usable components.
We even end up with authentic watercolor blooms! What is a bloom, you ask? Learn more in class!
These lessons are the perfect place to build watercolour skills in a "safe" environment and work in an instinctive and intuitive manner. If you have yearned for a daily practice of just creating art, this class is for you, whether you are a professional artist/illustrator or you just want to make art for fun. Check out the links provided in the course materials for example work, and just imagine what you'll be able to create after completing this class. You don't need to know how to draw, or have ever worked with sheet watercolour paints before. All you need is an open mind, the willingness to learn and take risks, and the drive to have a ton of fun! If you don't have sheet watercolour, any watercolour will do, or even liquid inks, and I recommend watercolour paper, and a variety of brushes or mark making tools. 
The key concepts I will include:
review of my painting techniques and how natural media can work in the production of abstracts
a look at brushes and their various idiosyncrasies
discovery and adventure of developing a new style
approaches you can take in your creative work
This is a great course for you to take no matter what the purpose for the art you create. Approach this course with an open mind and heart, and you will create something striking!
Concepts covered:
Concepts covered include but are not limited to the Viviva watercolour paint sheets, mixing watercolours, blending watercolours, mark making experimental techniques, layering, transparency, wet on wet techniques, wet on dry techniques, moisture control, water control, review of watercolour theory, finding appropriate reference, daily art practice, art journaling, mark making, texture, using a liner brush, using a filbert or fan brush, scanning and importing watercolour for use in Photoshop composites, Procreate composites, Procreate abstract art, procreate brushes for adding interest, workflow best practices, painting best practices, techniques with paints and blending, and much more.
You will get the bonus of…
an hour of direction from an instructor who has been in graphic design business and education for over 40 years
knowledge of multiple ways to solve each design challenge
handouts explaining key concepts
a list of helpful online sites to further your education into surface pattern design
For a challenge, try these DeloresArt Classes
Showcase other available courses, bundles, and coaching products you're selling with the Featured Products block to provide alternatives to visitors who may not be interested in this specific product.
Check your inbox to confirm your subscription