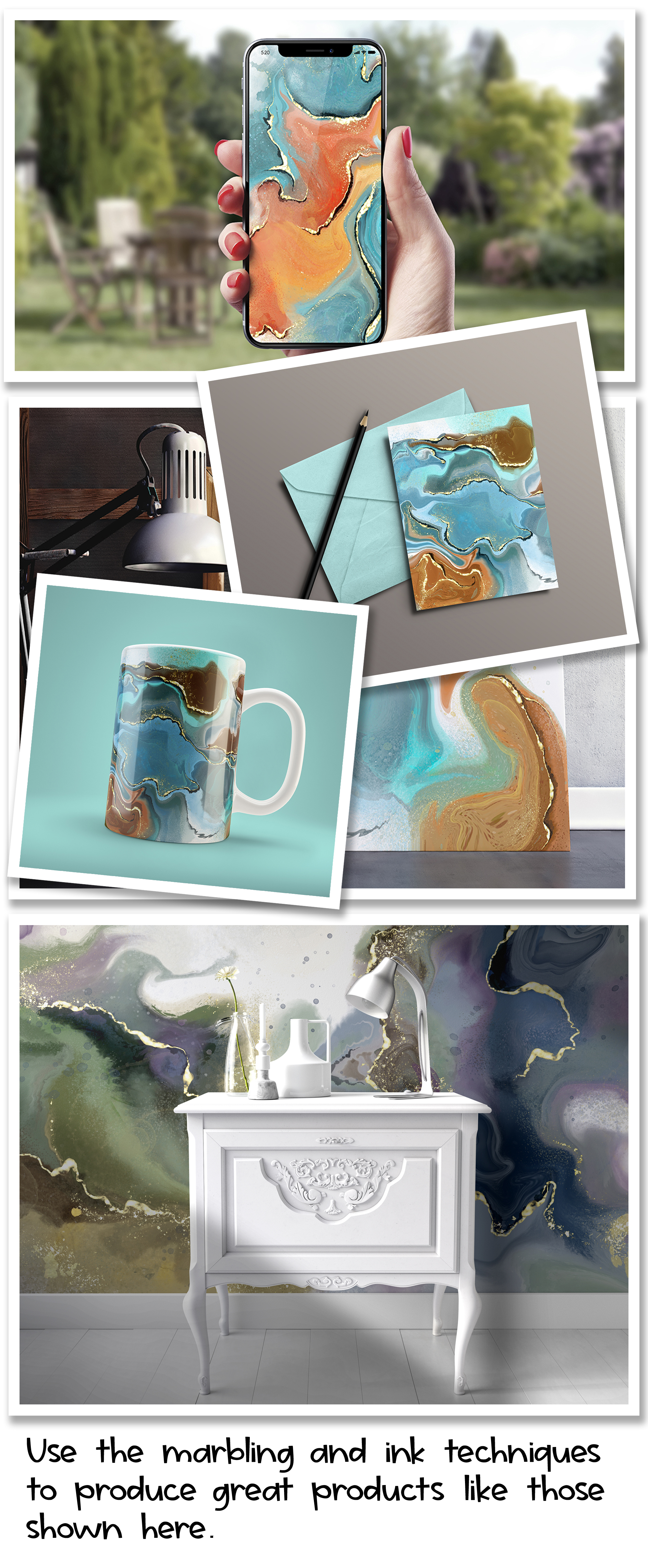 About this Class:
Are you looking for a cutting-edge method to make surface pattern designs and wall art pieces feel new and luxurious? With this easy-to-do digital marbling technique in Procreate, you will learn to do just that! Faux marbling is the preparation and finishing of a surface to imitate the appearance of polished marble, alcohol ink, Ebru, Suminagshi, or the new acrylic pouring you see everywhere. In this class, Digital Marbling and Alcohol Ink in Procreate with Easy Foil and Glitter Techniques, we will explore digital alcohol ink marbling and how to create luscious abstract pieces of art that can imitate many design and paint techniques in current art trends. The wild thing about these techniques: you can create this look quickly with no mess and materials! And it is so easy that it is sure to become a style all its own!
In the class I will be showing you methods to help YOU create beautiful pieces to resemble alcohol ink or any of the other finishes listed above. That's truly the fascination of this process in Procreate. As you learn the technique and make it your own, you will be able to create authentically and intuitively and uniquely.
I will demonstrate multiple tools and techniques, and I break down everything with demonstrations – everything from the essential foundations to multiple methods of finessing and adding sophisticated accents. And naturally, I cover a multitude of Procreate tips and tricks along the way, including importing brushes and adding foil accents. The best part is, you can do all of this without making a mess and wearing rubber gloves!
The key concepts I will include are:
learning the Procreate liquify tools and options

working with colour and adding richness with luminance brushes

experimenting with Procreate blending modes

using hue and saturation to adjust color

clipping masks and imported textures

buying and installing brushes

working with purchased brushes

importing reference and working with a split screen
This is a great course for you to take no matter what you plan to be using the art for. You can use only resident Procreate brushes, or expand the possibilities with purchased assets. Learn to work efficiently and in a professional way. You needn't know anything about Procreate or marbling and alcohol ink to take the class. If you're looking to create intuitively, or do something therapeutic, you will find these techniques most satisfying. It will take less than 1 hour and it's great no matter your skill level. This can literally be the first time you ever try Procreate, and you will be successful!
Check your inbox to confirm your subscription