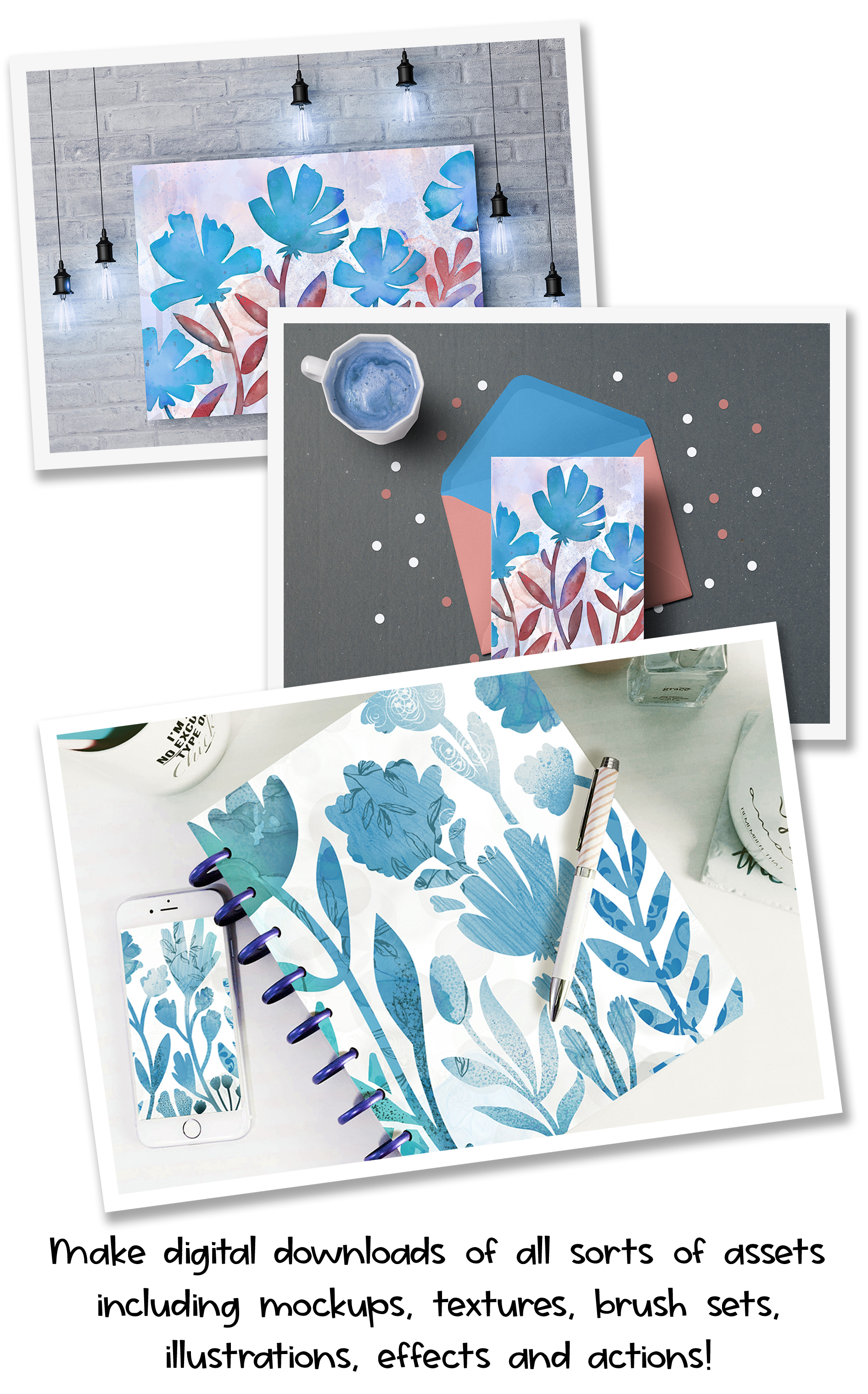 Hi and thanks for checking this class out! These past few weeks have been trying times for the world and especially for small business owners, artists and artisans (this was created during the early days of the pandemic). During the course of creating this class, I have had to make some real and hard decisions. I will reveal these in the class because I am sure they will reflect the struggles many artists are facing right now. 
Because of the isolation I have had to practice since returning from travelling, I have reviewed my "to-do" list and have zeroed in on something I have been wanting to do for awhile: to create digital downloads of loads of my art to sell online. 
I am a total fan for selling digital files (I sell on Creative Market and in my Shopify Store) because of the ease of use and the availability and variety for the buyer. I, myself, have bought many digital products such as brushes for Procreate, Photoshop and Illustrator, backgrounds, textured backgrounds, fonts and many add-ons like actions, fx, droplets and scripts. 
The two main venues for selling on-line are opening your own e-commerce "store" and/or selling on established marketplaces like Etsy, Zazzle, Society 6, Red Bubble and so many more. The advantages and disadvantages of both will be reviewed in the class. I will walk you through the entire process from start to finish showing examples in both venues, while giving you plenty of information about the pros and cons I personally have experienced. We will start with saving the files correctly, creating mockups, organization and finish up with the listings. I will even give you some advice with regards to creating and using CSV files to help speed up the process for you (I provide you with Excel templates to do so).
My advice? Start today and make it a point to list one (or several) products each and every day or week! You will not regret it! Join this class and you could literally be listing and selling this week!
Note: Many assets are shared including mockups and excel files, all valued at $39.
For a challenge, try these DeloresArt Classes
Showcase other available courses, bundles, and coaching products you're selling with the Featured Products block to provide alternatives to visitors who may not be interested in this specific product.
Check your inbox to confirm your subscription