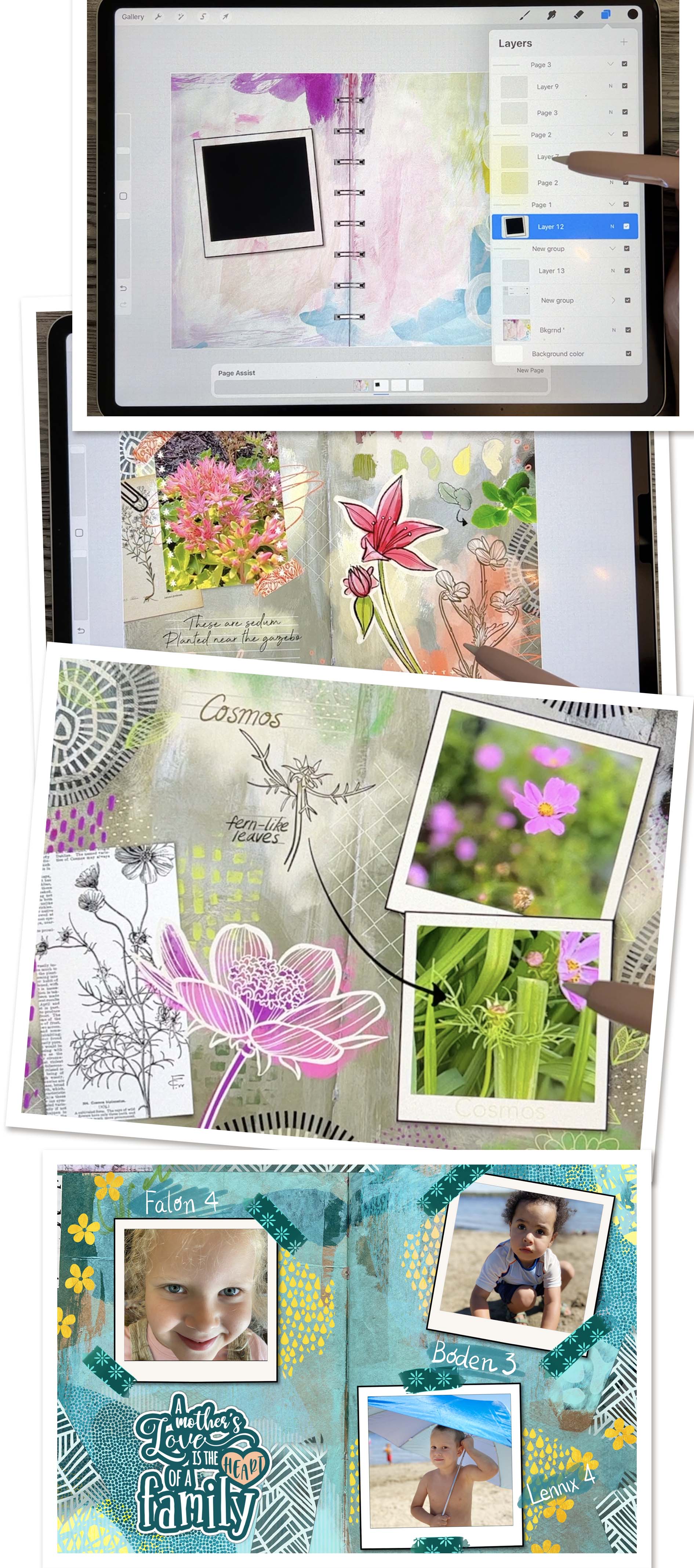 About this class:

Procreate has some great hidden functions and assets that are a little bit obscure, and I want to explore a recent innovation: Page Assist. With Page Assist, it is easy to create multi-page documents. Amazingly, you can even set a background which stands alone but appears on each page of your spread. This creates opportunities for creating projects like sketchbooks and art-journals. 
Don't think you can live without layers? You don't have to! There's a trick, but you can have many layers for each page. I will explain it all to you in the usual step-by-step fashion so you can follow along. By the end of the class, you will have your first unique and interesting art journal double-page spread. It's so wonderful to have this document that you can turn to whenever you want to do some quick, exploratory art or to produce a photo-spread as a gift or just for you! You can make multiple documents for different purposes.
Do you love art journals, sketch books or scrapbooking? With a basic knowledge of Procreate, you'll be able to go through all the necessary preparations to finish with a multi-page document. This class will benefit anyone who is looking for a safe and private place to explore artistic skills or to document absolutely anything.
Some examples of what you could make include an art journal, so why not use it to keep track of brushes you have used for a particular look, or techniques. I will use mine as a way to collect gardening information from around my yard. I can add labels and photos, so I can document what I plant and where I plant it, as well as keeping track of the maximum height a plant will grow or other relevant information. 
I can also see myself using it for documenting the lives of my Grandkids. I showed example to my daughters, and they want me to make one for each of my grandkids. I was just sent a load of pictures to get me started. I could see this as a wonderful pass-time! Can't you?




In this class I'll walk you through:
my step-by-step method for creating the multi page document

tips for creating compositions for an attractive and well-balance layout

my workflow for use of Page Assist and other great features like importing photos

adjusting using hue and saturation and the curves controls

methods for keeping the art fully editable for later adjustments and recoloring 
The key concepts I will include:
how to use Page Assist

use of the assets in the included brush set

use of layers within Page Assist
Learning to use Page Assist will give you so many new ideas. Imagine all the documents you can create with this. You can even export as a PDF or even print the pages and bind them into a book. Learning new Procreate workflows is always beneficial. I am sure you will create an awesome piece and it really opens up possibilites!
Concepts covered:
Concepts covered include but are not limited to Procreate multi page documents using Page Assist, Procreate patterns brushes, layering, transparency, Procreate brush stamps, Procreate canvas settings, Procreate snapping and guides, procreate clipping masks, blending modes, gaussian blur, the Brush Studio in Procreate, adjusting Procreate brushes, sizing of documents and brushes, composition and balance, selection methods, importing photos, importing ephemera, importing full backgrounds, adding texture with brushes, procreate brushes for adding other interesting details, workflow best practices, painting best practice, Procreate composites, techniques with paints and blending, and much more.
You will get…
55 minutes of direction from an instructor who has been in graphic design business and education for over 40 years

knowledge of multiple ways to solve each design challenge

a brush set and an authentic mixed media background
Check your inbox to confirm your subscription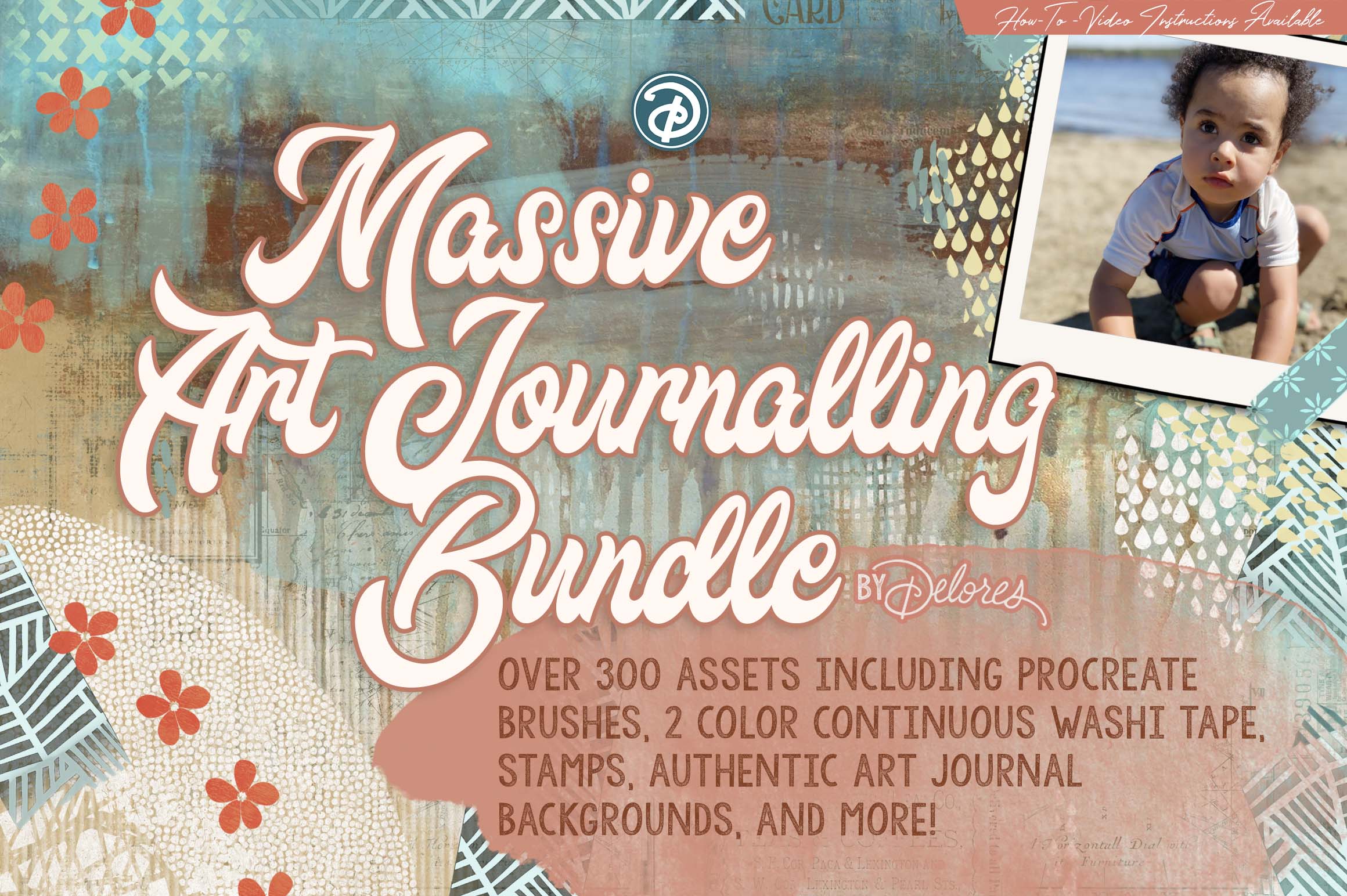 Student Deal - BIG DISCOUNT!

This Massive Art Journalling Brush Set is available to all students for Half-Price. On Creative Market I sell it for $44. In my own Artist Resources I sell it for $24 at this link. Student special discount with coupon code MIXED-MEDIA-HALF-OFF will get you this generous selection of brushes for JUST $12!!!!