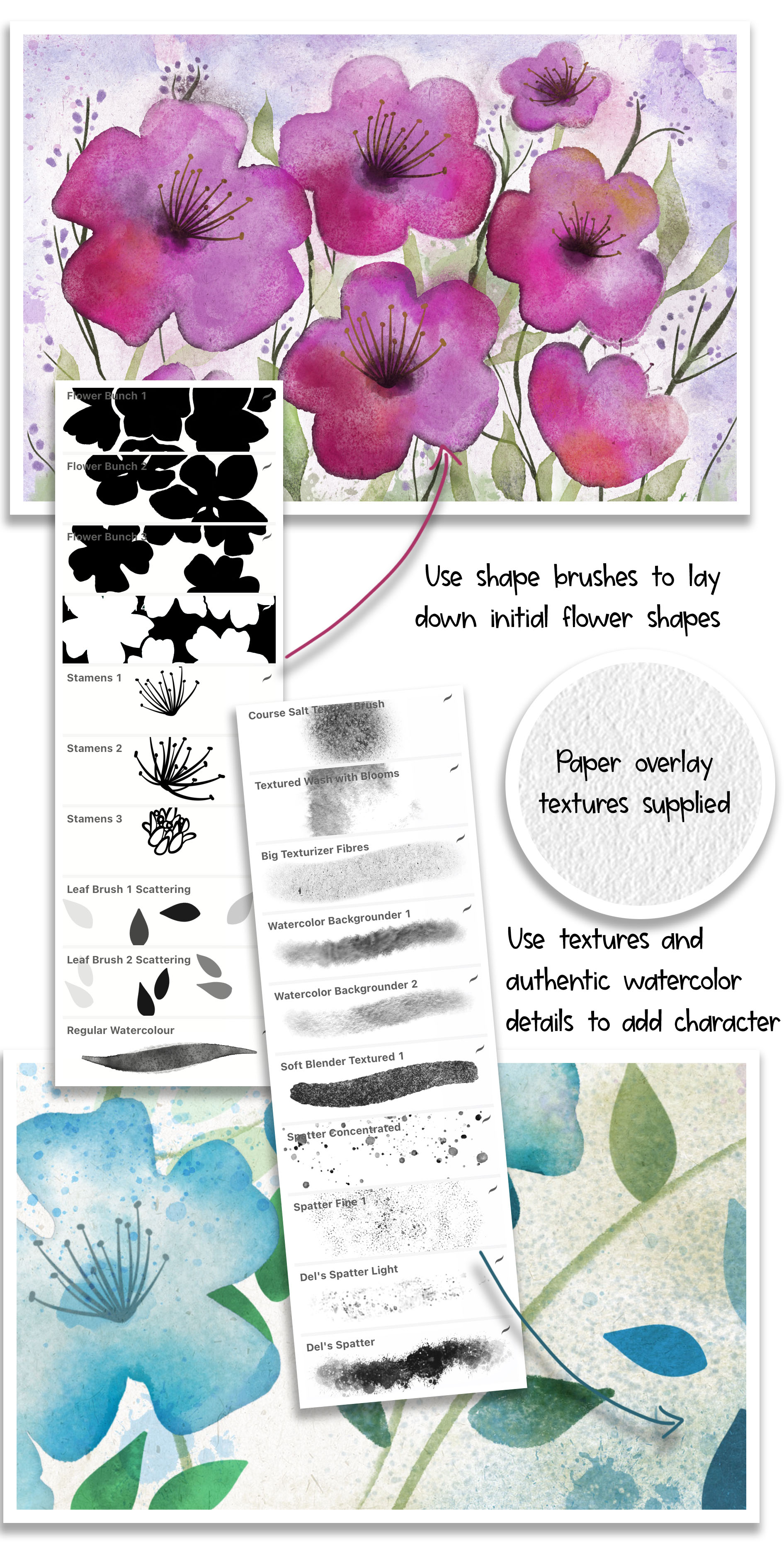 About this Class:
Have you had a chance to take my other Procreate classes, including Watercolour Floral Abstracts with Procreate and Simple Brushes in Procreate for Quick Compositions? If you have, you've learned plenty about custom Procreate brushes, but I still have more info for you! This class, Procreate Watercolor with Stencils, will show you some of my mixed media illustration methodology, and ways to use brushes to create stencils.
In the class, I take you from start to finish in creating a watercolor floral art piece, notably with the use of several stencils to create a richly layered authentic-looking organic art piece. And, I have techniques to make it so easy, you will use the techniques time and again. You will love how easy it is to have these look like realistic watercolor!
I provide everything you will need including some pretty floral stencil shapes, sponges in many forms and a variety of other assets. I have a bunch of finished pieces to share as well! I have used this method over and over and have developed workflows to keep the art completely editable. But the star of the show is the "stenciling process" using brushes to create these beautiful art pieces.
These lessons in Procreate are the perfect place to build watercolour skills in an environment where you can work in an instinctive and intuitive manner. I give you advice on how to be sure to save files and go back to old versions in case you need to. If you have yearned for a daily practice of just creating art, this class is for you, whether you are a professional artist/illustrator or you just want to make art for fun. Check out my Pinterest board called Watercolour Inspirations for example work, and just imagine what you'll be able to create after completing this class. You don't need to know how to draw, or even have ever worked with watercolour paints before. All you need is an open mind, the willingness to learn and take risks, and the drive to have a tonne of fun!
Concepts covered:
Concepts covered include but are not limited to Procreate art techniques, Procreate watercolour, mixing watercolours, blending watercolours, mark making experimental techniques, layering, transparency, Procreate brush stamps, Procreate floral brush creation, art licensing, POD ideas, creating original brush stamps in Procreate, the Brush Studio in Procreate, adjusting Procreate brushes, sizing of documents and brushes, using the streamline setting in the brush studio, compositions with brush stamps, adding texture brush stamps, procreate brushes for adding interest, workflow best practices, painting best practice, Procreate composites, techniques with paints and blending, and much more.
Check your inbox to confirm your subscription