About this class:

I have long been a fan of ink drawings and I was taught all the techniques by a master: my high school Commercial Art teacher. He, in turn, was taught by masters as well in England. He emigrated to Canada, and I was fortunate enough to have his tutelage. We used ruling pens, croquil pens and Rapidographs, or technical pens. One of my favorite subjects to draw was flowers, so I have been doing them in this way for over 40 years. He also taught us how to do wash drawings, which is a technique similar to watercolor, but done with watered down black ink. 
This class, Vintage Look Floral Ink Drawing in Procreate, will show you some of my inking and wash methodology, and ways to use brushes to add dimension. In the class, I take you from start to finish in creating a complete floral illustration, notably with mixed media background. And, I have created a brush set, Inky Business, to complement the class. I am giving you a sampler set with this class so that you can see the possibilities with the full set which is available in the artist resources. 
In this class I'll walk you through:
my step-by-step method for tracing a royalty free image
my workflow for adding dimension
adjusting the brushes included to create different effects
using a wash technique for additional shading
ideas for creating a background
If you've always admired the look of vintage inking illustrations, you will enjoy this class and the advantage of working on this digitally. Do a bunch of research first to see what might inspire you.

A sampler brush set is included with this class to help you follow along exactly. It is from the full set called Inky Business which I offer for sale on Creative market or in my Artist Resources. Use the coupon code INKY-50%-OFF to get an additional 50% off. The full brush set gives you tons of options, like cross-hatching and various inkers which mimic particular ink looks.
The key concepts I will include:
review of my brush alterations and adjustments

a look at Procreate inking brushes and their various idiosyncrasies

approaches you can take in adding dimensionality to ink drawings
Learning new Procreate workflows is always an advantage. I know you can produce something really appealing, and it's so interesting to work just in black and white. Practice makes perfect, so I would suggest you do more than one of these, and then use it on a mock-up to really see the impact!
Concepts covered:
Concepts covered include but are not limited to Procreate floral design, Procreate texture with brushes, Procreate brush settings, flower drawing specific issues, tracing a photo for a contour drawing, the Brush Studio in Procreate, adjusting Procreate brushes, pressure settings and how to use them to create highlights and shadows, adding wash shading with brushes, procreate brushes for adding other interesting details, workflow best practices, layering best practices, Procreate composites, techniques with paints and blending, and much more.
You will get the bonus of…
45 minutes of direction from an instructor who has been in graphic design business and education for over 40 years

knowledge of multiple ways to solve each design challenge

an outline with links to further research

a list of helpful online sites to further your education into surface pattern design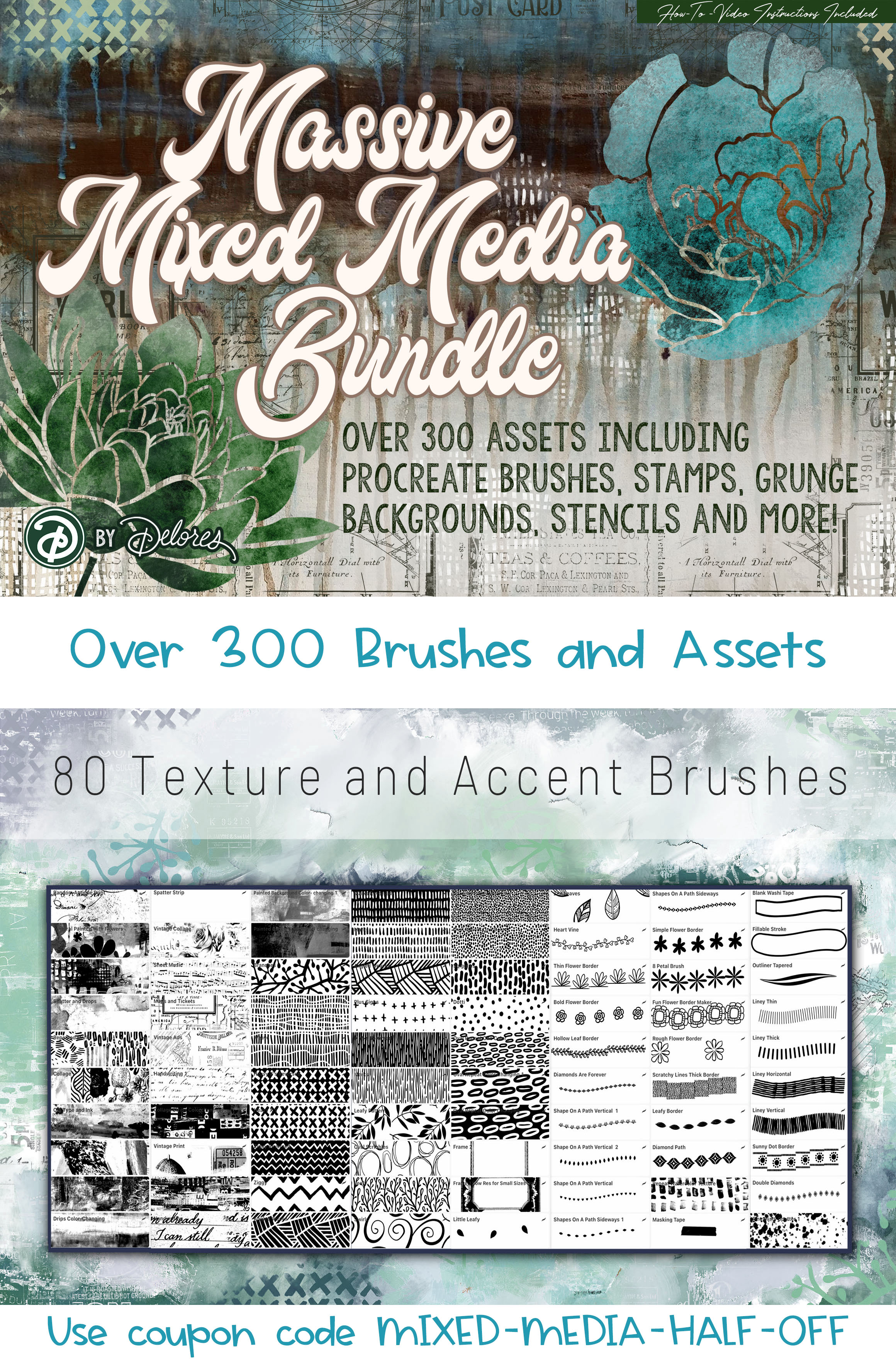 Student Deal - BIG DISCOUNT!

This Mixed Media Brush Set is my top selling brush set on Creative Market. I sell it for $44 there. In my own Artist Resources I sell it for $24 at this link. Student special discount
with coupon code MIXED-MEDIA-HALF-OFF will get you this generous selection of brushes for JUST $12!!!!
Check your inbox to confirm your subscription