About this class:

I have spoken about a "Daily Art Practice" before, and I wanted to give you another experience with mixed media art in Procreate. This class, Create an Authentic Art Journal Page in Procreate, was a class I created just after having major surgery, and I swear it helped me recover more quickly. I personally find that painting and drawing are great stress relievers. And when it is digital art you're creating, you will never run out if supplies and traditional materials! You can literally be producing this art anywhere and when you are done, just close your iPad. No fuss. No muss. It is a great place to experiment with new techniques and materials too, without breaking the bank. Spending a little money on brushes is far less expensive than visiting the art store for materials, supplies and tools!
If you are new to mixed media in Procreate, focus on the process, rather than the final result. Don't limit your creativity because drawing lines, mark making, inking and painting all contribute to your final piece. I want to encourage you to enjoy your "me" time and have fun! Play! It is all a part of your development.
If you find the blank screen more/as intimidating as the blank page, take the time to just fill a few documents with textural backgrounds first. I am providing you with brushes to make that "start" easier. Also, be sure to check out the free resources I offer on my website or have given away in previous classes.
This class is a beginner to intermediate class for people who have been using the Procreate app on their iPad with an Apple Pencil for a bit. This class focuses on creating digital art rather than how to art journal (for now – other classes coming soon!). You'll be making your own digital art journal pages using the lessons from this class in the future.



This class, Create an Authentic Art Journal Page in Procreate, will show you some of my illustration methodology as you follow me step-by-step through the process of everything from the bottom up. The background is just the beginning. And, I encourage you throughout to try to make this art uniquely you. That can be accomplished using alternate colors schemes, different brushes, and experiments with textures and layering. That was one of my main goals as I put this class together. I can see many follow up classes in the future to compliment this! 
In this class I'll walk you through:
my step-by-step method for creating interesting and textural backgrounds  

tips for creating an interesting composition 

my workflow for use of layers and other great features like blending modes

methods for keeping the art fully editable for later adjustments and recoloring using layers 
I know you will be chomping at the bit to create more when you realize this project it so fun and easy. I know will be able to really put your personality into it. I provide several pattern brushes you can use for your backgrounds too, and you can, of course, use one of your own brushes and patterns created in previous classes. I can't wait to see the diversity that will surely come from this!
The key concepts I will include:
layering to create great textural effects

a look highlights and shadows and other methods to make the foreground stand out against the background

approaches you can take to make this design your own
As you develop as an illustrator, you will find that challenging yourself is so satisfying! Learning new Procreate workflows is always desirable. I know you will create something very tactile and organic. Maybe you will think of many other ideas beyond what I have done in class. Be sure to really take a close look at reference!
Concepts covered:
Concepts covered include but are not limited to Procreate floral illustration, inking styles, layering, transparency, layer blending modes, Procreate ephemera brush stamps, Procreate canvas settings, the Brush Studio in Procreate, adjusting Procreate grain brushes, sizing of documents and brushes, adding texture with brushes, procreate brushes for adding other interesting details, workflow best practices, painting best practice, Procreate composites, techniques with paints and blending, mixed media art journal techniques in Procreate, and much more.
You will get the bonus of…
1 hour of direction from an instructor who has been in graphic design business and education for over 40 years

knowledge of multiple ways to solve each design challenge

an outline you can print off and a set of assets you can download in my Artist Resources of my website
Project Description
For today's project, I'd love to see what you can do with the ideas I give you in class. Play around and experiment and plan on doing more than one layout. Start with tactile and organic backgrounds. You can even go ahead and do two or three backgrounds before starting with the foregrounds. When you are ready, create a rough sketch to guide you. Experiment and have fun with it. This is supposed to be relaxing and therapeutic. I can't wait to see what you produce.

Check your inbox to confirm your subscription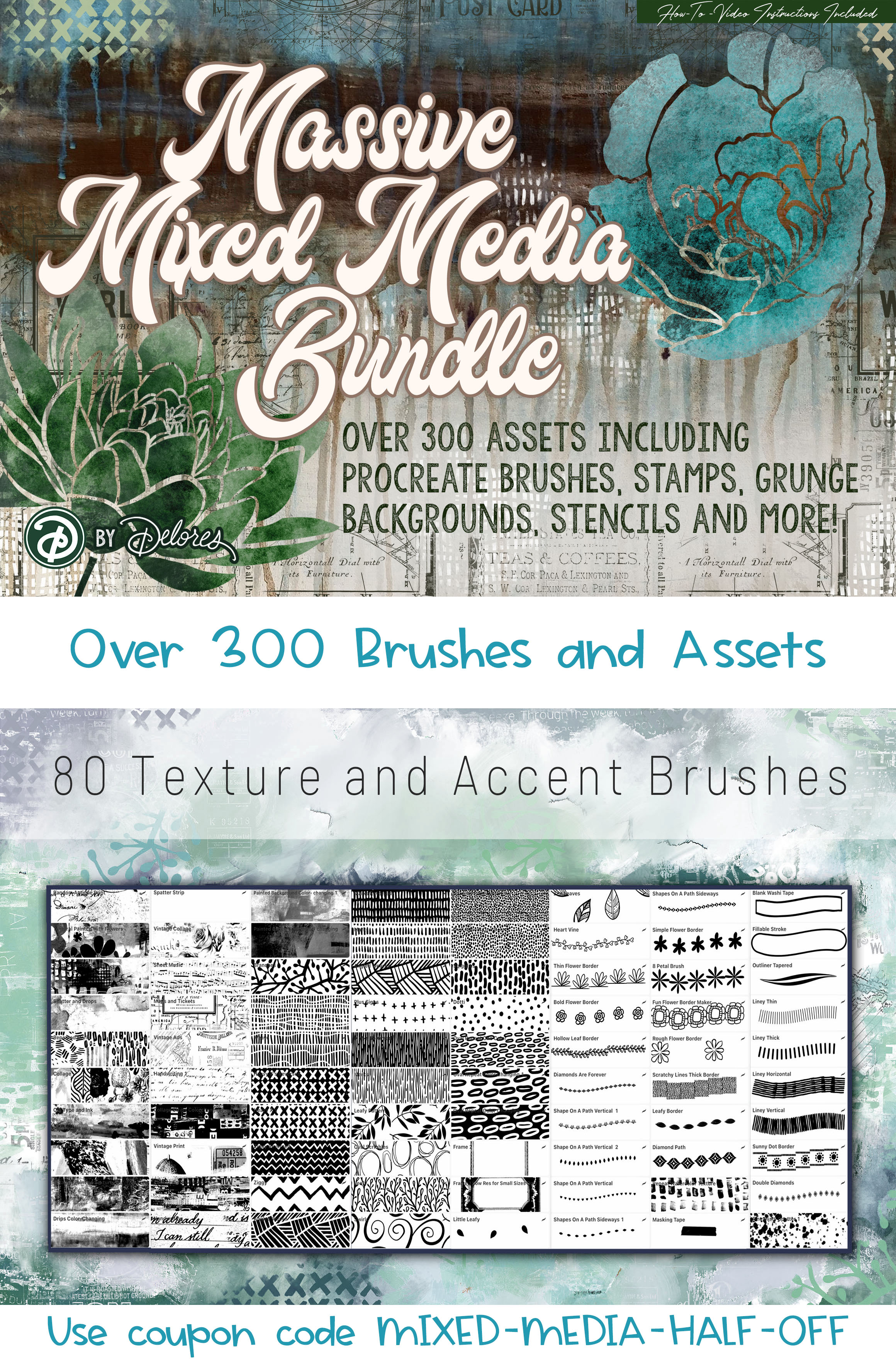 Student Deal - BIG DISCOUNT!

This Mixed Media Brush Set is my top selling brush set on Creative Market. I sell it for $44 there. In my own Artist Resources I sell it for $24 at this link. Student special discount
with coupon code MIXED-MEDIA-HALF-OFF will get you this generous selection of brushes for JUST $12!!!!