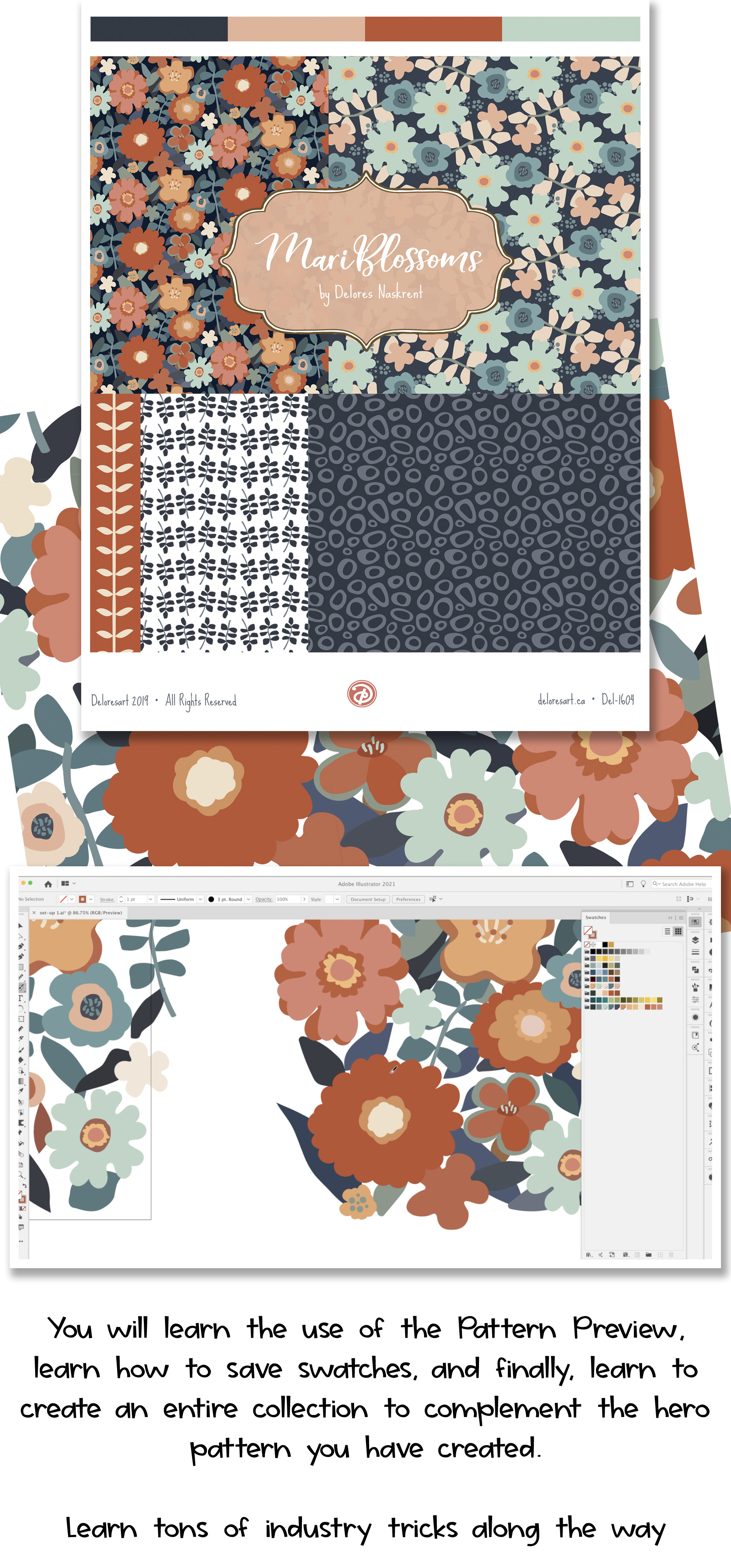 I hope you are ready for more practice with the Blob Brush! In this new instructional course, Simple Quick Marimekko-Inspired Layered Design, I will help you to create a striking artwork in the classic Finnish style. I have drawn inspiration from the bold shapes and colors of Marimekko, as well as artists like Liz-Kohler Brown and Ophelia Pang. In this one class, you will find all the practical skills required to use the Blob Brush and the Shapebuilder tools efficiently and effortlessly. The two tools work together so seamlessly! I have plenty of other ideas and pointers too, as I demonstrate my workflow from start to finnish (lol). I am also teaching you techniques for adding depth and interest to patterns created in this style! You will create foreground, middle ground and background layers which make your pattern so much more interesting! It will be a fun little adventure for you.
I'll be showing you more advanced Adobe Illustrator skills along the way too, but you can definitely be a beginner when it comes to learning these tools and techniques. If you are like me, you're always learning new pattern design skills and you want to take it one step further. If you are looking for ways to scale-up your pattern and coordinate production, you may find this is perfect for creating motifs and patterns more simply and effortlessly. I call these classes "Simple/Quick" for a reason!
Development of quick techniques with the blob brush for pattern design in Illustrator is the focus of this course, with the goal of helping you increase your proficiency with Illustrator techniques you may never have considered. You will conceive an energetic pattern which can be colorized to help establish the foreground, middle ground and background layers! In this course, you will learn every step. And remember, these techniques you pick up can be used for so much more than florals! Think of your favourite illustrations to draw and imagine using these methods and techniques on them! 
Example Featured Products
Showcase other available courses, bundles, and coaching products you're selling with the Featured Products block to provide alternatives to visitors who may not be interested in this specific product.
Check your inbox to confirm your subscription