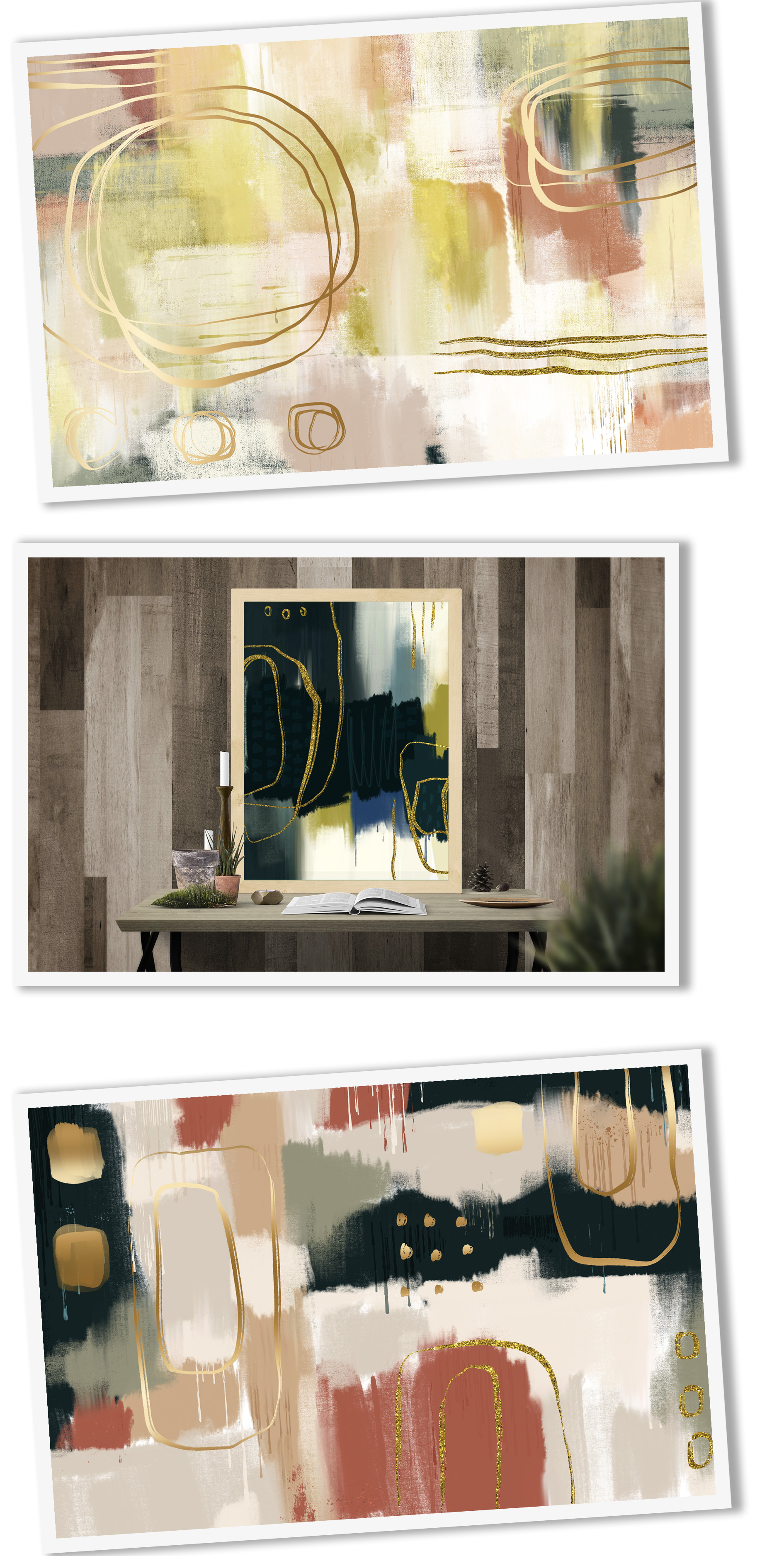 In this course, Abstract Impressionist Canvas Art with Adobe Fresco, you'll learn how to create your own abstract works of art to capture the overall feeling of a scene. Even though I am using the Adobe Fresco software on an iPad, you can use whatever program you are comfortable with. What I am teaching here is technique as a means to open your mind to the possibilities of producing lucrative works for art licensing or selling on POD sites. I will be showing you how to work in collections so that you have a cohesive set of artworks when you are done.
Once you have the art, you can create your physical products on sites like Society 6 and Redbubble to sell on the platform and marketplace of your choice - and/or - you can upload your digital designs to your Etsy store or personal website as art printables. When using print-on-demand sites, you are in a position to make a variety of different products to sell to your buyers. While you can create some epic wall art, you can also use the art for mugs, phone cases, and more. With abstract art, you are not limited! You can use your designs to create an entirely new set of products with things like all-over shirts, hoodies, and leggings - expanding your market, reach and inventory. As a bonus, this really kicks your creativity into high gear. You get to be totally unique and create a variety of designs you never thought you'd be capable of. Go from "I have no idea what I'm doing" to "WOW! I can totally do this!"
So who is this course for? Well that's simple, really. It's for anyone who has the interest and a desire to learn the techniques used to create paintings like those shown here. Kick your daily art practice into high gear to flex your art making muscles. I show you a bunch of fun techniques, like adding gold and glitter accents to make your works really special. The gold accents I infuse into my artworks combine perfectly with so many designs. Gold is just that icing on the cake; that classy touch. Gold just works so well with all colors!
I listed this course as appropriate for all levels. In this course I assume you have at least some basic knowledge of abstract art and a desire to learn how to create these digitally. I show you how to mix colors and use brushes, as well as import brushes (in Adobe Fresco). In this course we will be creating colorful, large modern abstract paintings. I will show you step by step how to add texture, line and form to a canvas and give you the confidence to paint loose and carefree without the worry of making mistakes. I share my secret techniques that took me years to perfect. If you want to learn how to create stunning designs using a timeless form of art - all the while using your art to make physical (and digital) products for personal, creative or commercial purposes, this is the course for you.
This class is suitable for artists with some knowledge of painting in general, but it will also be good information for beginners. The main focus of this class is composition and painting with digital oils/acrylics and adding accents in ink as well as the gold and glitter. If you are experienced, I hope you can learn a couple of alternative methods from me and perhaps a new approach.
The key concepts I will include:
mixing colors and saving palettes

review of my techniques in creating the initial layout

perfecting the composition

planning and creating the clipping masks

approaches you can take in your creative work

working in collections
This is a great course for you to take no matter what you plan to be using the art for. Learn to work efficiently and work in collections, and learn how to package and output these in a professional way

Looking for Related Classes?
Check out these other classes related to art licensing.
Check your inbox to confirm your subscription