Get the membership for the School of Art by signing up for any bundle at $12.99 a month. Use the discount code 50%-OFF-SUBSCRIPTION (until May 31st).
Interested in additional bundles? Contact me for current promotion to add more bundles to your subscription for FREE!

CLICK HERE TO GO DIRECTLY TO THE BUNDLE ENROLMENT PAGE
Full membership gives you access to every class in the bundle of your choice. Membership allows you to add additional bundles for a special promo (contact me once you have registered for one bundle). Periodic sales will even allow you to add bundles for FREE!
Membership allows access to everything included in the Hubspot Member's Only segment of the community.
Get perks like the printed welcome kit (delivered by snail mail anywhere in the world). Also, you will get access to the members-only resources which will include everything from printable guides, free brush sets, printable brush charts, various digital downloads, monthly design mood boards and industry insider documents like call outs and trend forecasts.
Coming Soon:
industry coaching
live meets
individual coaching sessions
Q and A's at least once a month
lunch club art sessions for new software features
resource library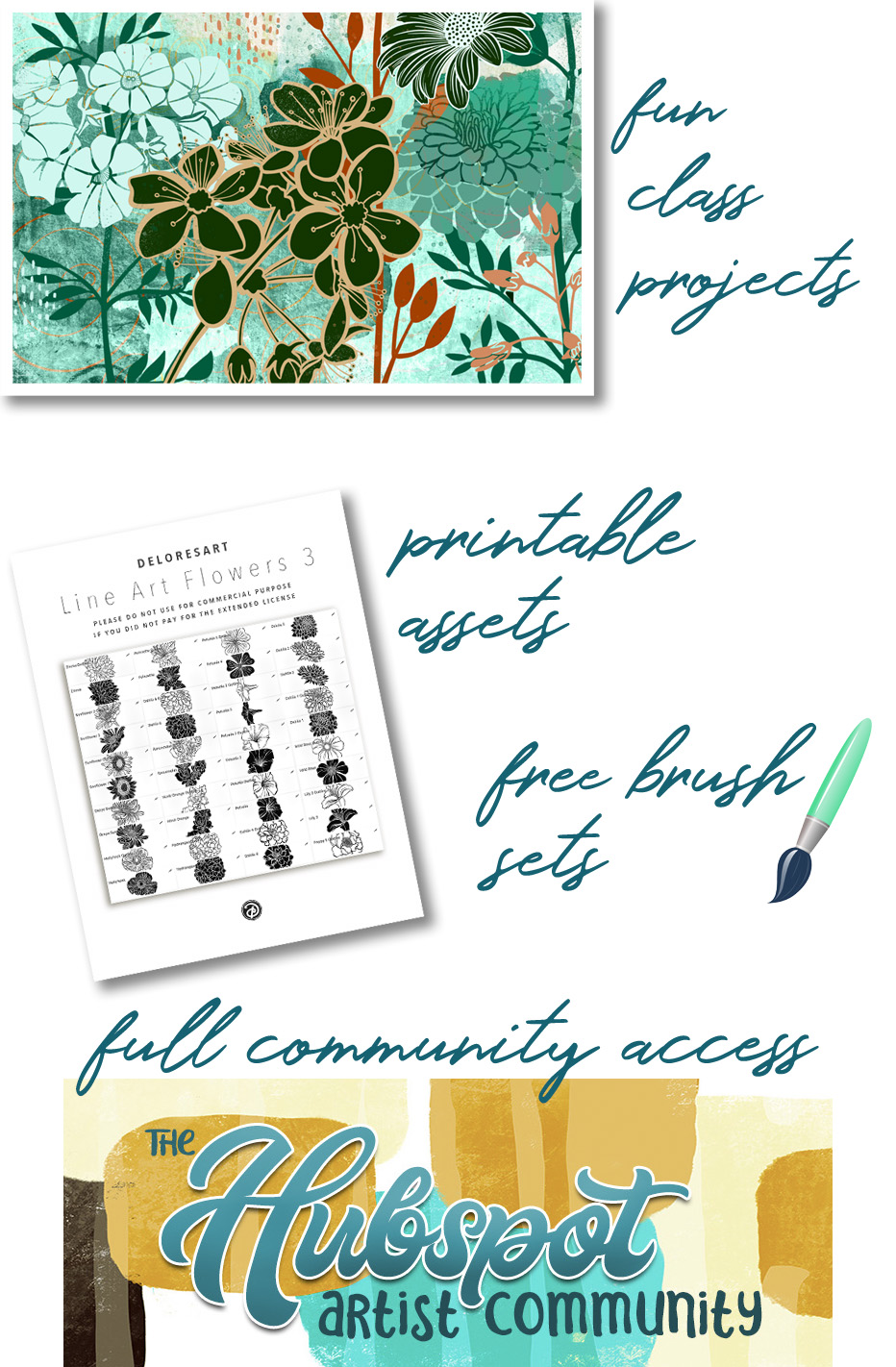 Welcome!
So you have made it this far, and I have to think you might be interested in my school. I want to tell you what membership means to both you and I. Membership for you means that you will have access to ALL the classes I have, numbering approx 150 here and growing by at least a class every two weeks.
I like to think I am covering all the bases for illustrators, whether you are a hobbyist, just starting out on your illustration career, you are seasoned and perhaps looking for a change or an infusion of new techniques, or you literally do these projects for fun and relaxation.
In the last two or three years, I have also yearned for a community of like-minded individuals; Someone to talk to, share with and get feedback from. I have been thinking about it so much, I decided to jump in and create a community, for you, my new friends and students, and also for me. I wanted the same feeling I had when I was in school, and hanging out with my Commercial Art classmates. I wanted it to be a hub for sharing and support. Thus, I have created The Hubspot, and I'd like to invite you to be a part of it.
You don't need to be in the community if you choose not to be, but just know the door is always open.
About My Classes
My favourite thing to do is to curl up on the couch with my iPad and just experiment. Lately I have been mainly using Procreate and Affinity Designer on the iPad, though I have extensive experience in the Adobe Creative Suite too. My creative outlets feed my art and business practices in so many ways. I use much of the art to sell for art licensing purposes. I work with 2 agents and I am here to tell you, there is room for you to start earning with your art, if that's what you want.
Not interested in making money with your art?
No pressure! There is nothing wrong with making art just for the sake of making art! It can be both therapeutic and cathartic. A daily(-ish) practice has helped me through a lot of trial and tribulation in my life. I share openly about surviving an abusive marriage (my first husband), and more recently, fighting cancer, and through it all, art has been my anchor.
I cover subjects as diverse as surface pattern design collection creation, creating large POD art pieces, earning a passive income, illustration, design, typography, and lots of "art biz" advice. I have created many trend-forecasting classes too, just to give you ideas and motivation.
My current statistics:
6067 Followers on Skillshare 66,023 Total Students on Skillshare 2,397,454 Minutes Watched 1749 Reviews

Read some of my reviews:
"If you aren't following Delores yet, you should. She has a lot of great information in her classes."- Linda Smith
I have become addicted on Delores's courses; they are such a great resource of useful hints and techniques, very useful and inspiring.- Sonja Mtc
Very cool techniques that I would have never thought of doing... but now I can't wait to try. Thankfully I live in Las Vegas so I can have some really cool photos to test out with these new ideas! Thanks again Delores... you are always super creative! - Rhonda Reagan
This class exceeded my expectations! This is a fantastic class. Delores is very generous with offering free brushes and a ready-built canvas. Her instructions are clear and inspiring. - Leslie Panfil
As with all courses from Delores, this is a great one with her usual generous sharing of information and technique. Delores always gives wonderful feedback and gives detailed and considered answers to questions. A superb teacher. - Enda Brennan
Available Classes Sorted by Software


Procreate Classes: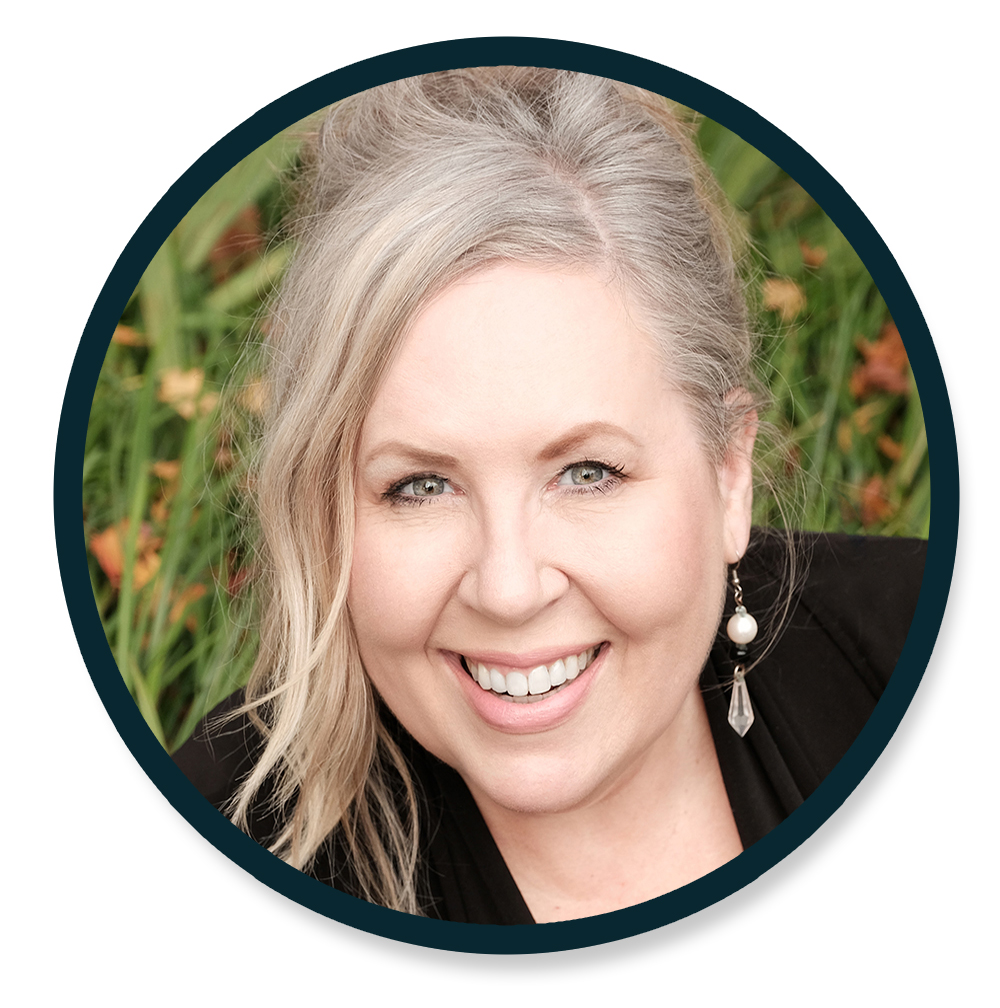 Hello, I'm Delores. I am so thrilled to be here, teaching what I love. I was an art educator for 30 years, teaching graphic design, fine art, and theatrical design. My own education took place at college and university, in Manitoba, Canada, and has been honed through decades of graphic design experience and my work as a professional artist, which I have done for over 40 years (eeek!). In the last 20 years I have also been involved in art licensing with contracts from Russ, Artwall, Studio El, Bentley Publishing, Trends, Metaverse, Evergreen, and more.
The bottom line? I love to experiment and mix both natural and digital mediums to create everything from very commercial work to very non-commercial fine art abstract paintings (and yes, I do sell these, so I guess they are commercial after all).
I am so excited to share my knowledge with you all. Please join me in my classes and follow me. I am sure we will have tons of great adventures together (oh my, so cliché). Anyhow, here we go...